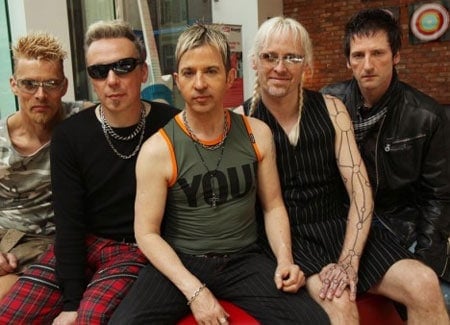 Here's an 80's flashback for you. Gay frontman Limahl and the band Kajagoogoo are reuniting for their first tour. Maybe they can open for Lady GaGa — a Googoo-GaGa tour?
The Daily Mail: "the groupsplit up just eight months after their biggest hit following a bitterfeud. However, the members have set aside their differences to get back onthe road this September. What they haven't set aside is their sense ofstyle. Bassist Nick Beggs has even incredibly managed to retain twoblond pigtails. Limahl, 50, said he was confident the reunion was the start ofsomething big. 'Back then, we didn't have time to enjoy things,' heconfessed. 'But now we're older and a bit wiser.'"
Limahl's big solo hit was "The Never Ending Story" for the beloved children's film.
The group's 1983 hit, "Too Shy", AFTER THE JUMP…