With reports that names of two lesbians, former Stanford Law School Dean Kathleen Sullivan and Stanford Law Professor Pam Karlan, are circulating on shortlists for Obama's Supreme Court appointment, The Hill spoke with key GOP Republicans about whether or not sexuality would be an issue.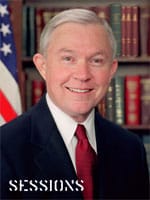 Said ranking Senate Judiciary Committee Republican Jeff Sessions (AL): "I'm not inclined to think that's an automatic disqualification. I may disagree with some legal opinion on those issues, but I thinkfundamentally it will be up to the president to submit somebody whowould unite the country and would be a clear statement of a mainstreamjudge who commits himself to the law."
Sessions appears "uneasy" about it, and he thinks the American people will be too.
GOP Chief Deputy Whip John Thune (S.D.), however, called it "a bridge too far right now," adding, "It seems to me this first pick is going to be a kind of important one,and my hope is that he'll play it a little more down the middle. A lotof people would react very negatively."
More Republican responses similar to Sessions', at The Hill.
Chuck Wolfe, President and CEO of The Victory Fund, talks about the possibility of a lesbian on the Court on MSNBC, AFTER THE JUMP…