A senior molecular biology major at Christian Grove City College in Pennsylvania was suspended two weeks ago for appearing in a Randy Blue porn video: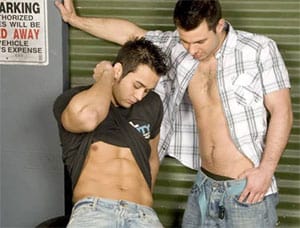 "Gechter (left) began his career
in gay pornography late in his sophomore year, two years ago. During
that time, Gechter successfully kept Vincent DeSalvo a secret from his
life at GCC. No one knew about his off-campus job, not even his
roommate at the Colonial Apartment complex. That ended the night of April 23 when the
first e-mail revealing his online identity was sent out. By the next
morning, at least two-thirds of the student population had received the
e-mail. So did school administration." Gechter was suspended for a year because he "exhibited behavior contrary to the values" of the school. Gechter said the video helped him pay for his tuition.
(via slog, where there's a link to some of the materials)