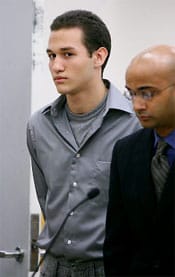 John Katehis, the alleged killer of New York radio news man George Weber answered a Craigslist ad "seeking a sadomasochistic partner to smother him" according to documents viewed by the New York Daily News:
"Katehis, 16, pleaded not guilty at his arraignment Friday on murder charges, where his lawyer Jeffrey Schwartz argued the teen was defending himself from a sexual attack by Weber who called himself 'smotherboy' and was wielding a knife.
But Katehis' signed confession tells a different story.
The teen claims the stabbing occurred after binding Weber's legs with duct tape in his Cobble Hill, Brooklyn, flat and was 'accidental.' … 'He took [a small knife out of his pocket] to show it to me but I got nervous and grabbed for the knife,' Katehis wrote."
And then he stabbed Weber 50 times…by accident.
Katehis' lawyer described the MySpace webpage on which Katehis professed his love for satan and knife-collecting as a "goofy, impressionable teenager trying to be macho."