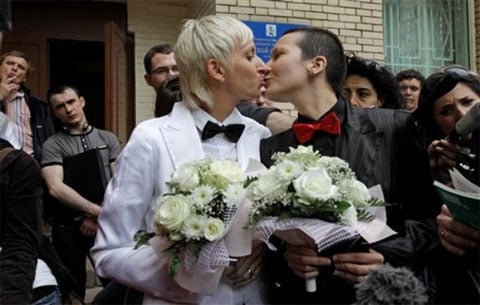 For the first time, a lesbian couple in Russia has attempted to obtain  marriage license:
"Irina Fedotova and Irina
Shipitko were handed a written rejection from an official in a registry
office in central Moscow on Monday. The office director,
Svetlana Potamoshneva, said Russian law recognizes a marriage 'only'
between a man and a woman. Despite the rejection, the couple said they
would not give up. 'We won't stop in midstream,' Fedotova told
journalists later, adding that she and her partner plan to get married
in Canada. She said Russia recognizes marriages registered abroad, thus
allowing the couple to formalize their relationship. Despite
the rejection, the couple—wearing suits and bow-ties and holding
flowers—held hands and kissed, and said they would continue to fight
for recognition of gay rights in Russia."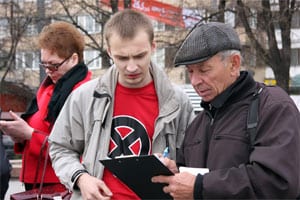 A gay pride parade is scheduled for Saturday despite the fact that it has been banned by officials, at the same time the city is hosting the Eurovision Song Contest finals, a huge cultural event for the city. A group called the Orthodox Front has been planning a protest of the parade: "The protesters' flyer shows garishly made-up transvestites juxtaposed
with an image from the Beslan school hostage crisis. In 2004, Chechen
terrorists stormed a school in the Russian republic of North Ossetia
and held 1,200 children and adults captive for days. Hundreds died in
the bloody drama. 'Homosexuality is the same as terrorism,' asserts one of the Pushkin
Square activists. He and his colleagues call themselves the Orthodox
Front. They tell interested passersby that the gay parade is a
provocation against the government and promotes homosexuality. Many
people are happy to sign the petition.