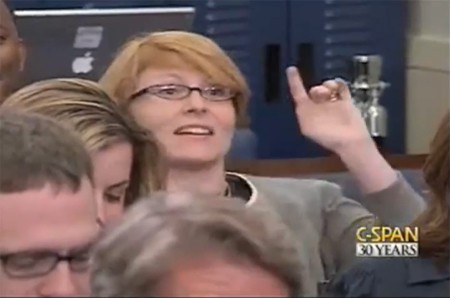 White House Press Secretary Robert Gibbs was asked a follow-up questionby Air America's Ana Marie Cox (I posted her first yesterday) on "Don'tAsk, Don't Tell" in which Gibbs said that the Pentagon has corrected its statement on "Don't Ask, Don't Tell", and that there are active discussions.
Cox also asks why the President feels the need to go through Congress on the issue. Gibbs answers that "the only durable andlasting way with which to overturn the policy is to do it by law."
One wonders if the President has seen the Palm Center's recent study providing a blueprint for him to halt discharges and end the policy via executive order. Maybe Cox can ask that question next.
Watch it (and read the transcript), AFTER THE JUMP…
Yes, ma'am.
Q Actually, it's a follow-up from yesterday, since I didn't get a follow-up then, but you said yesterday that —
MR. GIBBS: Apparently that's your own fault. (Laughter.) I'm joking.I don't want to get into it. Look what you've done to me. You've got mein this place — nature versus nurture. (Laughter.) Sorry, go ahead.
Q So you had said that the President is working with the Pentagonand the Joint Chiefs of Staff on "don't ask, don't tell," but earlierthis week the Pentagon said that the conversations were "initial" andthat there is "no sense of any immediate developments in the offing onefforts to repeal 'don't ask, don't tell.'" So I wanted to give you achance to correct the Pentagon on that.
And I have two other questions. What other policies are there —
MR. GIBBS: If you ask like that you're going to get bumped up to, like, the first row. (Laughter.)
Let me address the first question because, if I'm not mistaken, thePentagon did correct that statement on efforts regarding the reform on"don't ask, don't tell."
Q So there are active conversations happening now?
MR. GIBBS: Yes. Yes.
Q Okay. And then I wanted to know if there are any other policiesthat the President believes to be, as you said yesterday about "don'task, don't tell," not in our national interest but is content to letCongress take the lead on? And second, President Truman didn't see itnecessary to clear desegregation through Congress, so how is thisdifferent?
MR. GIBBS: Well, I don't want to put words in your mouth, but maybeI was — maybe I used some poor language, but the President is involvedin these discussions. It was the President's commitment to overturn thepolicy that's not in our national interest that is the reason for thesediscussions and for the effort to overturn this. So I think the notionsomehow — the reason Congress is involved is the only durable andlasting way with which to overturn the policy is to do it by law.That's the —
Q So when can we expect a durable policy on racial desegregation in the military, since that's never gone through Congress?
MR. GIBBS: Well, I'm out of my depth as a lawyer. And I'm notexactly sure the timing of when President Truman did that, but my senseis that there were also some legal proceedings around that. Try as onemay, a President can't simply whisk away standing law of the UnitedStates of America. I think that's maybe been the undercurrent of someof the conversations we've had over the past few days on GuantanamoBay. But if you're going to change the policy, if it is the law of theland, you have to do it through an act of Congress.
Q And so there's pending legislation? I didn't see any.
MR. GIBBS: I don't know what's been introduced in Congress.