Russian gay activist Nikolai Alexeyev announced that President Obama will face a protest when he arrives in Moscow on July 7 during a State visit: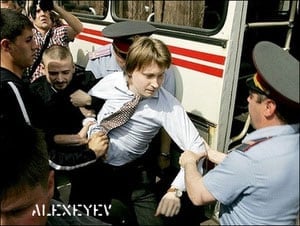 "And they will be
using a variation on the Obama campaign slogan 'Yes We Can', Nikolai
Alekseev revealed in Geneva this morning. 'We want to
express our solidarity with US gay activists who are planning similar
protests in Washington DC, Chicago and other cities in the coming months,'
he said...In Russia, gay
activists are also campaigning for gay marriage, Mr. Alekseev pointed out. 'Last month, a
female couple was denied registration of their marriage by the Marriage
Office in Moscow.  The couple are
planning to fly to Toronto in August to get married – and then campaign for
the recognition of their marriage when they are back in Russia. Before they fly
to Canada, the couple is expected to take part in the July 7 protest in
Moscow,' he said. Mr. Alekseev
admitted that the permission to stage a small protest rally outside the US
Embassy in Moscow was 'highly unlikely'.…'However, there
is a chance as the protest will be aimed more at the situation in the US,'
he said.  'And the presidential
media pack will be in town.' He said that the
application will be lodged with the Prefecture of the Central Administrative
Area of Moscow fifteen days before the planned event."