Following the madhouse in yesterday's New York Senate and the apparent seizure of power by Senate Republicans, Empire State Pride Agenda executive director Alan van Capelle has issued a statement calling for a vote from the legislative body on marriage equality: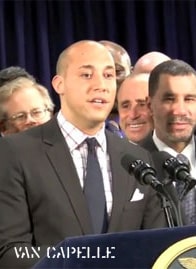 "The Empire State Pride Agenda and our allies have fought hard to make sure that same-sex couples in New York are given access to marriage and the 1,324 rights and responsibilities that come with a state marriage license. We have also fought hard to end legal discrimination against transgender New Yorkers and bias-based harassment in schools.
"The marriage equality bill recently passed by an overwhelming margin in the State Assembly and was gaining momentum in the State Senate as the end of the session approached.  The same is true for the Gender Expression Non-Discrimination Act and the Dignity for All Students Act.
 
"Our issues are not partisan issues. They are about equal rights for hundreds of thousands of New Yorkers who are treated like second class citizens. Our hope and expectation is that yesterday's events will not derail efforts by our community to win the equality we so desperately need.
"It is time to bring marriage equality and these other LGBT issues to the Senate floor for votes and have members vote their conscience. We urge the Senate to schedule these votes as soon as possible before the end of the legislative session."