An attorney and former White House advisor to Bill Clinton, Richard Socarides, writes on the DOJ-DOMA issue in an excellent piece in Americablog: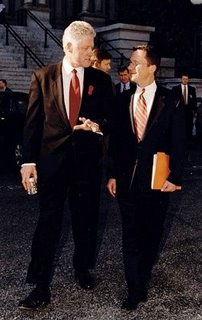 "…the general rule that the DOJ must defend laws against attack is
relative – like everything in Washington. And even when the DOJ does
defend a law against constitutional attack, it does not have to advance
every conceivable argument in doing so (such as the brief's invocation,
in a footnote, of incest and the marriage of children). In fact, many
legal experts believe that in this particular case none of the issues
going to the merits of whether or not DOMA is constitutional needed to
be addressed to get the case thrown out. The administration's lawyers
could have simply argued, for example, that the plaintiff's had no
standing. There was no need to invoke legal theories that were not only
offensive on their face, but which could put at risk future legal
efforts on behalf of our civil rights. I am not suggesting that
it is easy to get the DOJ to agree not to defend a law on the merits,
because it is not. Someone has to be aggressive and make persuasive
arguments to the president. Someone on a staff level has to believe
strongly that it is the right thing to, not defending DOMA, and be
willing to push hard. But it is doable. It does happen. It is one of
the reasons the president needs to appoint a high-ranking, respected,
openly gay policy advocate to oversee government efforts toward
lesbian, gay, bisexual and transgender equality (as I and others have
previously urged)."
Here are also a few leftovers worth reading from over the weekend.

DOMA Defense: It's worse than you think.

Who filed the DOMA brief: A Mormon holdover from Bush.

Dale Carpenter: "My point here is not to claim that the DOJ's arguments are anti-gay,
homophobic, or even wrong. Much of the brief seems right to me, or at
least entirely defensible, as a matter of constitutional law. My point
is only to note how much continuity there is in this instance, as in
others, between the Bush and Obama administrations. In short, there's
little in this brief that could not have been endorsed by the Bush DOJ."
The lack of coverage over the DOMA brief from the mainstream media has thus far been disappointing.