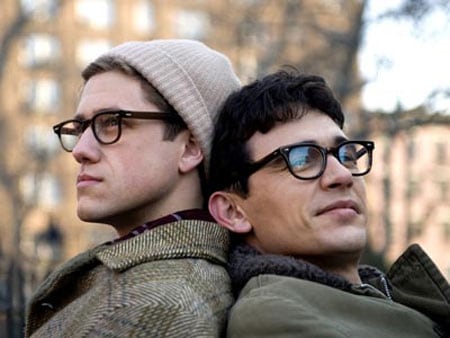 There have been a few on-set shots of James Franco shooting Howl, the biopic about poet Allan Ginsberg. Here's the first official shot from the studio of Franco as Ginsberg (right) with his friend Peter Orlovsky (played by Aaron Tveit)
EW reports: "Produced by Gus Van Sant, the movie revolves around the titular
Ginsberg work from 1956
that turned him into a literary superstar. 'All his uncertainty
culminates in the poem 'Howl' and gives birth to the Ginsberg we
know,' says Franco. 'The Beats were very important to me when I
started reading literature more seriously in high school. They were
some of the first writers that
I read and fell in love with.''"
Ginsberg and Orlovsky met in 1954 and were together for forty years. Ginsberg made a point of listing Orlovsky as his 'spouse' in whis 'Who's Who' entry. Below, Orlovsky and Ginsberg at place Ste-Germain des Pres, Paris, late 1957.