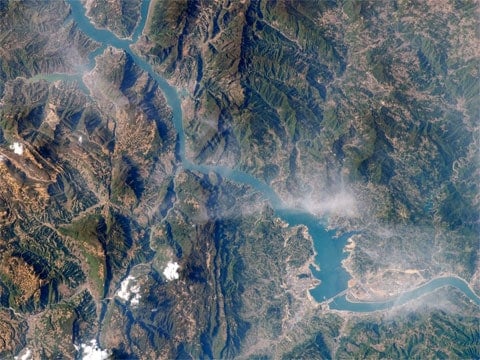 Here's one of the first images astronauts on the International Space Station have released of China's Three Gorges dam project, as water fills up behind the dam (lower right) in a reservoir 600 kms long:
"The epic scale of the dam project is matched by the level of
controversy it continues to generate. Concerns about major
environmental impacts, the relocation of 1.2 million people, and the
flooding of 13 cities, more than 1300 villages, archeological
locations, and hazardous waste dumps were raised throughout the
planning and implementation. Environmental concerns include increased
seismicity from the loading of the water, landslides, changed
ecosystems, accumulated pollution, increased chances for waterborne
diseases, and salinity changes in the Yangtze estuary."
The dam was completed in 2006. This photo was shot on April 15, 2009.