The U.S. Supreme Court agreed with a lower appeals court decision upholding the military's 'Don't Ask, Don't Tell' policy, refusing to hear a case brought by 12 former servicemembers (Pietrangelo v. Gates):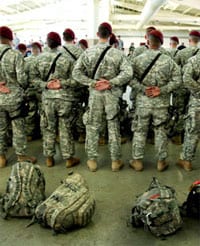 "The rebuff spares President Barack Obama's administration from the
awkward task of mounting a legal defense for a policy the president
says should be repealed. In urging the Supreme Court not to hear the
appeal, administration lawyers said a lower court was correct to uphold
the policy. The high court case stemmed from a lawsuit by 12 former service
members who were discharged because of their sexual orientation. A
federal appeals court in Boston threw out the suit, disagreeing with a
San Francisco-based appeals court that had let a similar suit go
forward. One of the 12, James E. Pietrangelo II, asked the Supreme Court to
hear arguments in the case. Most of the rest of the group joined a
brief asking the justices to defer reviewing the policy while the
administration and lawmakers revisit it."