Letter to Obama from People for the American Way calls for him to make major speech on LGBT equality and to move Congress to act.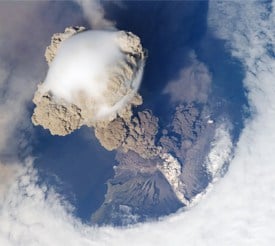 International Space Station gets lucky shot of erupting volcano.

Elisabeth Hasselbeck sued.

Watch What Happens: Andy Cohen to host weekly live late night talk show.

Boy Culture's visit to Broadway Bares. The event raised over $800K.

Iranians mourn Neda: "To those who knew and loved Agha-Soltan, she was far more than an
icon. She was a daughter, sister and friend, a music and travel lover,
a beautiful young woman in the prime of her life. 'She was a
person full of joy,' said her music teacher and close friend Hamid
Panahi, who was among the mourners at her family home Sunday, awaiting
word about her burial. 'She was a beam of light. I'm so sorry. I was so
hopeful for this woman.'"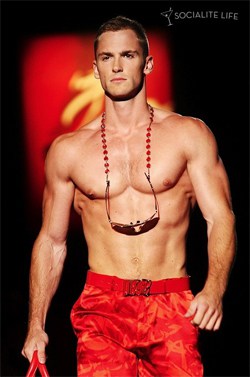 It's men's fashion week in Milan.

Barna Study: "People who portray gay adults as godless, hedonistic, Christian
bashers are not working with the facts. A
substantial majority of gays cite their faith as a central facet of
their life, consider themselves to be Christian, and claim to have some
type of meaningful personal commitment to Jesus Christ active in their
life today." (study)

Anti-gay informercial Speechless: Silencing the Christians, which was stifled in Michigan, resurfaces in California and North Carolina.

NYT goes inside Apple: "Employees working on top-secret projects must pass through a maze of
security doors, swiping their badges again and again and finally
entering a numeric code to reach their offices, according to one former
employee who worked in such areas. Work spaces are typically
monitored by security cameras, this employee said. Some Apple workers
in the most critical product-testing rooms must cover up devices with
black cloaks when they are working on them, and turn on a red warning
light when devices are unmasked so that everyone knows to be
extra-careful, he said."

New York mag on the gay generation gap.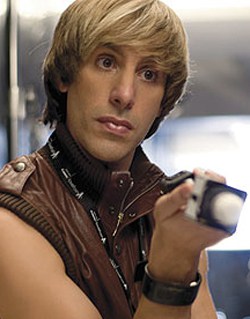 Austria pissed at Sacha Baron Cohen over Bruno: "So it comes as no surprise that some local media are not happy with
seeing Austria become 'the new Kazakhstan', thanks to Herr Bruno. Now
these 'fears have become a reality', reads an article in the tabloid
newspaper Österreich."

Rapper Eve to appear on Glee in the fall.

Sarah Jessica Parker and Matthew Broderick have twins through surrogate mother.

60,000 U.S. inmates sexually abused each year: "Inmates who were short, young, gay or female were more likely to be victimized than other inmates."

Manhattan synagogue makes $10K off Westboro Baptist Church protest: "Leaders of Congregation Beth Simchat Torah, a West Village synagogue that caters to gays and lesbians, didn't want to ignore a planned visit by members of the rabidly anti-gay and anti-Semitic Kansas-based Westboro Baptist Church.
Instead, they asked supporters to pledge a dollar or more for every minute that six protesters stood near their synagogue hurling epithets and holding signs that read "God Hates Fags" and "Jews Stole the Land."
The final haul after 50 minutes: $10,000."