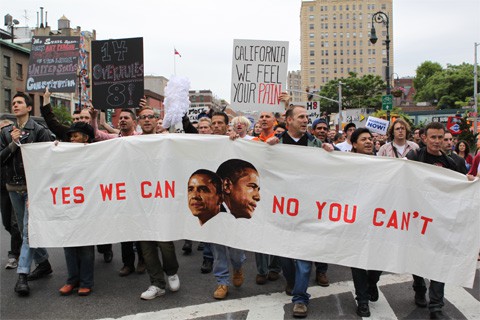 GILBERT BAKER

Activist and designer Gilbert Baker is best known for creating the rainbow flag in 1978 as a symbol of LGBT pride, liberation and diversity. Since then he has designed many flags and banners, including the ones recently used in New York's marriage equality march in response to Proposition 8 (above). Baker shares his thoughts on the occasion of Pride Month 2009.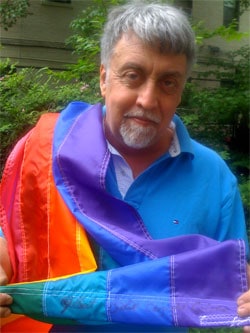 We celebrate Gay, Lesbian, Bisexual and Transgender pride, but are mindful our struggle for Civil Rights is only beginning. In the 40 short years since Stonewall we have changed the world with our visibility, we have organized and moved governments, but most of all we have fought back in our personal lives to be free and live true.
It is the great spirit of liberation that connects us through all generations. It is the moment we all share of coming out, first and foremost to our selves, knowing who we are.
There are many places in the world today where our brothers and sisters are forbidden to join together openly, who live alone with a secret they fear to share. Think of them when you see the Rainbow Flag. When you march, you march for those who cannot. When you sing the songs of freedom, your voice gives those censored and silent hope.
I call on everyone who has pride to rise up and take action. We must push our politicians to make the change they have promised. In America we will not wait any longer for full equality, we will not be bullied with conventional political wisdom. We will take it to the streets.
Continued, AFTER THE JUMP…
Now is the time to march on Washington DC. I join others from coast to coast who have had enough and are headed to our nation's capitol on October 11th, 2009, to march for freedom and equality, protest injustice, and mobilize in ways never seen before.
Remember this is a revolution and evolution; free your mind of doubt. To those who question the timing and tactics of taking a stand — right now — and getting in the face of the FEDERAL government — I say get on board. The whole world is watching.
State by state we have battled, won some and lost many. We march in towns large and small across the land to make our case. But there's a difference between the governor's mansion and the White House. It's not the same thing watching the TV coverage over cigars in Malibu, as it is explaining equality to your kids in the Blue Room — while the chandeliers shake from the sound of our fury.
Back in the day. LBJ sat in the Oval Office, barricaded behind a wall of buses from a crowd of millions who shouted "hey hey LBJ how many kids have you killed today?" It changed him. It turned the page on Vietnam. Or even before, in August of 1963 and another March on Washington, when Martin Luther King had a dream that became JFK's dream. It changed the world.
We need waves of marches and direct actions in Washington if we're serious about winning equality. Listen up America: we're here and we're clear; we're not going away. We are in your face at City Hall. We siege the State House and sue in the Court House. We vote and we vote and we never give up.
There's a time for party festivals, for dancing and celebration, and there's a time to rage and resist. If we're a movement, let's move. Gear up now for the road ahead. Get your walking shoes and talking points. Take a constitutional for the Constitution; many have died that we might take simple steps. Honor their courage with ours.
October 11th is quick, but we are a versatile people, and we already know the way — strength in numbers and perseverance in personal commitment. Do not stay home and let history pass you by. Light a fire on Facebook, enlist your friends and neighbors, Google your maps and get on the bus!
President Obama, Congress, and the Court — we're coming. We're coming from Salt Lake and Baltimore, from Albuquerque and Minneapolis, from the sunshine state and the golden state, from Kansas wheat fields and Boston Harbor, from the streets of the Big Apple – and the Big Easy. We're coming with 50 stars on and a human rainbow.
E Pluribus Unum! – Out of many, one. One for justice!  One for equality!  One for change!
(Baker headshot by Richard Ferrara, protest shot Andy Towle)