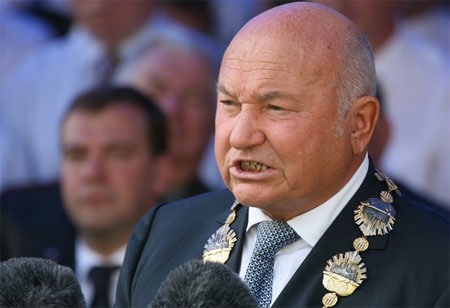 Moscow Mayor Yury Luzhkov restates ban on gay parades:
"First, this is society's moral. Our society has a healthy moral and
rejects all these queers. If you even imagine that they get permission
to hold their parade and
gather, they will simply get killed. We have radical Christians who
have hard feelings against these demonic manifestations, as they see
it. By the way, when there were attempts to hold a gay parade during
the recent Eurovision Song Contest, we had to isolate 19
radicals who were going to beat up these queers. I ban such parades,
and this decision is well-thought. Moreover, this
is not only a mayor's decision. Our society itself is against such
demonstrations."
Luzhkov has been sued for the remarks: "Leading gay rights activist Nikolai Alexeyev filed a defamation lawsuit
for 1 kopek against Mayor Yury Luzhkov on Wednesday for saying 'queers'
undermine a morally healthy society…Alexeyev said he held little hope that he would win the lawsuit that he
filed in Moscow's Tverskoi District Court. 'Nobody in Russia can win
against the authorities. This is about raising awareness,' he told
Reuters."