New York Governor David Paterson has ordered an emergency session for New York's Senate as the power deadlock enters its third week and the scheduled end of the legislative session arrives on Monday. A power struggle has been underway since June 8 when Republicans seized control. Arguments over who is in charge have paralyzed it since.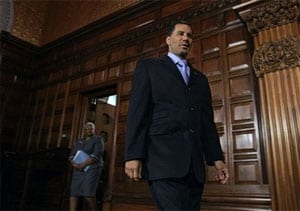 Said Paterson: "Government has been inoperable because of a political battle. The Senate has been unable to
deliberate, has refused any outside intervention … has rarely met and
only in acrimonious circumstances…I will call the New York State Senate … into extraordinary session on Tuesday."
The Washington Post reports: "Paterson also announced that the chief judge of the Court of Appeals,
Jonathan Lippman, had made himself available to preside over the
Senate, if both parties approve. And he threatened that if senators did not cooperate with the order,
he would convene a special session every single day until they do,
including weekends and holidays. 'There will be no tolerance for noncompliance to this order,' added
Paterson, who has no authority over the senate when in session, but is
authorized to compel it to be in session."
The New York Times reports that Tuesday's session will not include consideration of the marriage equality bill:
"The governor's apparent retreat on an issue he has made a central
priority was surprising, especially because the leader of a
Republican-dominated voting bloc in the Senate has been eager to bring
the issue up for a vote. Mr. Paterson's move does not doom
same-sex marriage, but makes it much less likely to pass in the
short-term. An aide to the governor said Mr. Paterson would still like
to see the same-sex marriage bill come to a vote in the coming weeks,
but Democratic leaders have resisted holding a vote unless it was
assured of victory."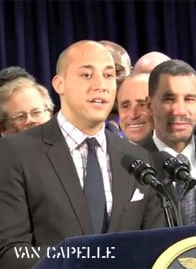 The Empire State Pride Agenda's executive director Alan Van Capelle release a statement demanding a promised vote on marriage equality:
"Not to include marriage for same-sex couples as a priority for Tuesday's extraordinary session is an insult to millions of gay and lesbian people and their families. The majority of New Yorkers support marriage equality as does much of the political establishment across the state.  New York's elected officials were put in office to do the people's business.  Legislators cannot go home without passing marriage equality legislation this month.  Our community and our allies expect this to happen. We have a commitment from the Governor as recent as last night that this bill will be a top priority. We have the support for marriage equality from leaders on one side of the aisle and a commitment that marriage equality should be a vote of conscience from the leader on the other side of the aisle. We hold the Governor and the Senate to these commitments.  We expect and deserve a vote on marriage equality this week."