Senator Ruben Diaz, Sr., who has been the staunchest opponent of marriage equality in New York, has two gay brothers and loves Liza Minnelli so much that she brings him to tears, New York magazine reports: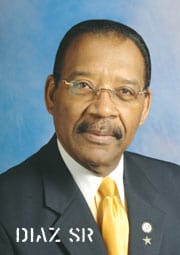 "Over the Christmas holiday, Christopher Lynn, a former top Giuliani
aide and founding member of the gay and lesbian Stonewall Democratic
Club in New York City, took one of his closest friends, a Democratic
state senator, to a performance of Liza Minnelli's Broadway show, Liza's at the Palace … !
During the poignant rendition of Charles Aznavour's drag-queen ballad,
"What Makes a Man a Man?" ("I know my life is not a crime/ I'm just a
victim of my time"), Lynn turned to his friend and saw that he was
choked up. 'Diaz was in tears,' says Lynn. Yes, that Diaz — Bronx
senator Ruben Diaz Sr., the Pentecostal Puerto Rican minister and
scourge of gay marriage. … Diaz, who has not one but two gay brothers, says, 'I'm not
homophobic. I have a problem with gay marriage. I have no problem with
gays.' Even Liza Minnelli won't change his mind about that, but her
deft, shaky hand did stroke at least some part of his soul. 'It touched
me, something touched me,' Diaz told New York about the performance that moved him to tears. 'Something got to me.'"
Diaz has promised if Paterson brings marriage equality up for a vote in the Senate he will do "something" and it will be "big".