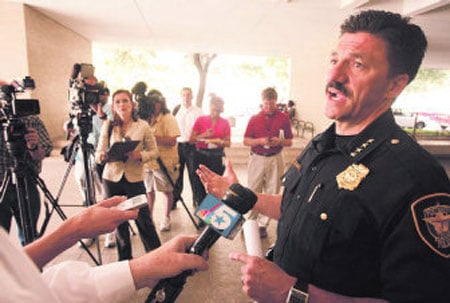 Fort Worth Police Chief Jeff Halstead tells the Star-Telegram that police officers did not target the Rainbow Lounge, a gay nightclub, because of the sexuality of its customers or the date (the 40th anniversary of Stonewall), calling it a "routine bar inspection."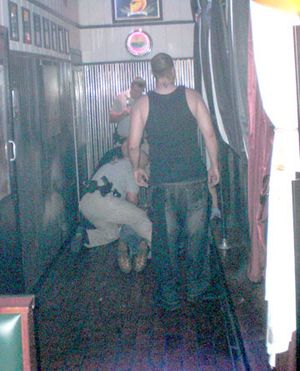 Seven were arrested for public intoxication and one person remains hospitalized for a head injury which may yet require surgery.
The paper reports: "Some customers made 'sexually explicit motions,' according to apolice statement, and one grabbed an officer's crotch. A policespokesman later identified that person as Gibson. 'My brotherwould not do that,' [Kristy] Morgan said. Gibson, a high-tech worker who isabout 5-feet-8 and weighs about 150 pounds, was at the club withfriends, including a designated driver, she said. 'He's not a big drinker, a big partyer,' she said. The police statement said one patron was so drunk he was vomiting. Morgan said her brother threw up because of his head injury. Shealso questioned police efforts to summon medical help. The time onGibson's ticket for public intoxication is 2:10 a.m. An ambulancewasn't called until 2:25 a.m. Club Manager Randy Norman saidGibson didn't seem drunk and was walking from the men's room, holding abottle of water, when an officer pushed him against a wall and thenpushed him to the ground. Some patrons said they heard Gibson ask theofficer a question, but that he didn't fight back. At least threeofficers were involved in handcuffing him."
A columnist at the Dallas Morning News is demanding answers. As are local politicians: "Council members Joel Burns and Kathleen Hicks are requesting theprobe into Sunday's raid at the Rainbow Lounge, where about a halfdozen people were arrested. Hicks says she's disturbed by the raid that sent at least one person to the hospital."
Fort Worth police statement identifying involved officers, and local news report,
AFTER THE JUMP…
FORT WORTH POLICE STATEMENT
On Sunday morning, June 28, 2009, at 12:30 a.m., six (6) Fort WorthPolice Officers, two (2) TABC agents and a Fort Worth supervisorconducted inspections at 160 W Rosedale (Rosedale Saloon and CowboyPalace). This inspection resulted in nine (9) arrests. Once theinspection was completed at these locations, officers proceeded to theRainbow Lounge.
Officers arrived at the Rainbow Lounge to conduct the scheduledinspection. The Fort Worth Police Officers who participated in this barcheck included the following: Officer K. Gober, #3656, Officer J.Ricks, #3484, Officer M. Marquez, #3655, Officer J. Jenson, #3731,Officer J. Back, #3863, Officer J. Moss, #3722 and Sergeant Morris.
Fort Worth Police Chief Jeffrey Halstead would like to emphasizethat any and all allegations of misconduct against any Fort WorthPolice Officer will be investigated thoroughly. Any person presentduring the bar check conducted at the Rainbow Lounge that observed anymisconduct of a Fort Worth Police Officer is encouraged to contact theInternal Affairs Division at 817-392-4270 in order to set up aninterview.