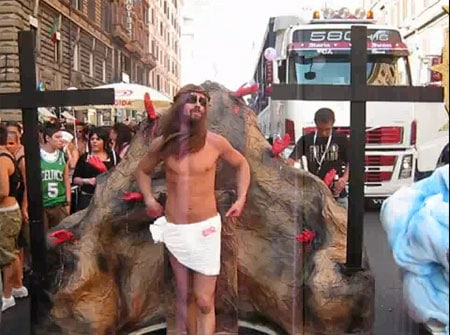 Many Gay Pride celebrations are taking place this weekend. One is in Rome: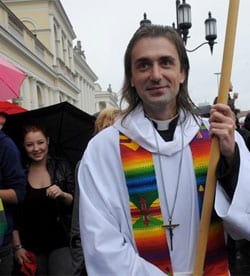 "Costumed demonstrators carrying rainbow flags and signs reading 'freedom for all' attacked the conservative government of PremierSilvio Berlusconi. They demanded rights for same-sex couples and the recognition of gay marriage. Activistsdressed as fake clergy with colorful hats and signs reading 'NoVatican' protested what they say is the church's excessive influence onItaly's policies."
One thousand took to the streets in Warsaw (right), 2,000 in Athens.
Zagreb, Croatia had a similar spirit but a much different tone (photo below):
"In Croatia, another mostly Roman Catholic country, about 500 gay activists marched through Zagreb. Noviolence was reported, but about 50 people held a counterdemonstrationand shouted anti-gay slogans. One was led away by police after tryingto break through a cordon that authorities had created around the GayPride parade to protect it."
Video of today's parade in Rome, AFTER THE JUMP (warning: nsfw moments)…