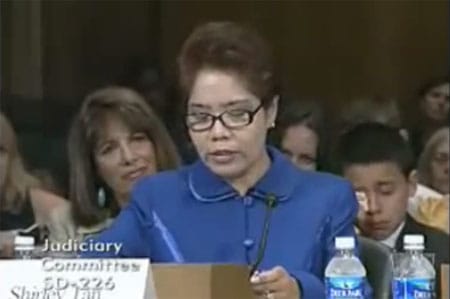 Shirley Tan testified at the Uniting American Families Act hearings today before the Senate Judiciary Committee.
As Tan became emotional describing her arrest by immigration agents, Tan's son broke down as well. Tan has been with her partner Jay Mercado for 23 years. They have two 12-year-old sons. Tan faces deportation, but was given a reprieve in late April via a private bill which will allow her to stay in the U.S. until the end of this session of Congress, or unless UAFA passes.
Watch it, AFTER THE JUMP…
You can view ALL THE TESTIMONY in our widget in the right hand column of the front page of our site. The widget is also share-able via the tab below the video. It may not be in chronological order, however.
Also, the NYT did a major piece on the bill today.