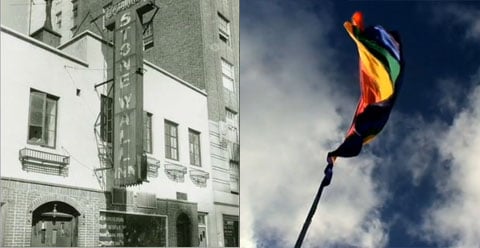 Tonight marks the 40th anniversary of the Stonewall Riots, widely regarded as the symbolic birth of the LGBT rights movement in America. Below, I've collected some interesting articles and interviews regarding Stonewall and the events surrounding it. For everyone celebrating Pride this weekend, have a safe and peaceful time of it.
NYT: politics behind culture.
Frank Rich: 40 years later, still second-class Americans…

At OurSceneTV, Stonewall veterans talk about the uprising.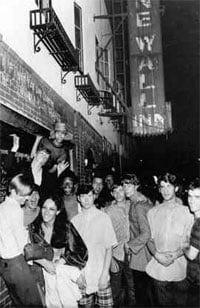 NY Daily News: 40 years after the Stonewall riots, gays are still "fighting to be seen as full humans."

The Advocate looks at the 40 years since Stonewall with 40 of its favorite covers.

Lucian Truscott, who covered the riots for the Village Voice, writes about it in the NYT and breaks down some of the myths regarding who was behind it, who got involved, and the mafia's involvement: "Soon enough, loose cobblestones from a nearby repaving site rained
down on the bar's windows. An uprooted parking meter was used to ram
the club's doors. Someone lighted a wad of newspaper and threw it
through the bar's broken window, starting a small fire. The policemen
inside the Stonewall put it out with a fire hose, which they then
turned on the crowd. Instead of dispersing, the people in the
street cavorted sarcastically in the spray, teasing the officers with
suggestive come-ons. A few moments later, patrol cars came screaming
down Christopher Street from Sixth Avenue. And at approximately 2 a.m.
on Saturday, June 28, the gay men decided they weren't going to take it
anymore. The clash outside the Stonewall went on for 48 more hours and
become famous as the riots that started the gay-rights movement."

AARP launches Stonewall 40th anniversary site.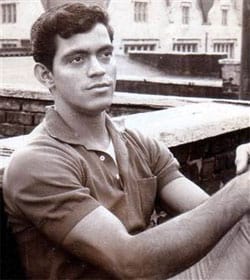 NBC talks to Raymond Castro, a Stonewall vet who now lives in Florida with his partner. "When the police raided the place, I was outside. Then I remembered a friend inside who did not have a false ID and he
was going to get in trouble, so I went inside to give him one. Once I got inside, the police wouldn't let us out. It got
really hot. I remember throwing punches and resisting arrest. The
police handcuffed me and threw me in the paddy wagon. But I sprung back
up, like a leap frog, and when I did that I knocked the police down."

Another witness, Fred Sargeant, discusses the night of the riots.

Top Stonewall cop: Raid was "right." "I don't think not liking gay
people had anything to do with it."

The TakeAway talks with Stonewall vet David Bermudez and young activist Jason Haas about Stonewall and gay activism since Stonewall. Bermudez: "That night was different because, you see, when we were raided we never
fought back. Never ever fought back. And that night I feel that because of Judy Garland's
death and all that we just had it. Enough was enough. When the cops started hitting us and
harassing us and putting us in paddywagons and all, we just went ahead and fought back, and
started hitting back."

Stonewall baby: "I was born on the day of the Stonewall riots."

Below, "Live narration from SFGMC's 2009 Spring Concert 'Tune In, Turn
On, Sing Out', relating Stonewall to today's current equal rights
battles; accompanied by video montage of SFGMC taking part in rallies
and marches fighting for rights throughout the State of California."