WWD reports on the imminent (or not) marriage of designer Marc Jacobs and Lorenzo Martone: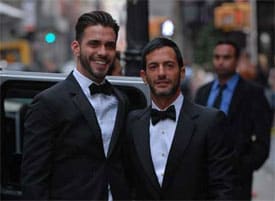 "Since reports surfaced that Marc Jacobs and his fiancé Lorenzo Martone planned to tie the knot in Provincetown, Mass., where Jacobs' business partner Robert Duffy owns a seaside home, the little Cape Cod town has been awash in speculation. When will it happen? Have they come and gone in total secrecy? Will Madonna show up? One Provincetown caterer said he thought the ceremony took place this past weekend. A local airport employee said the couple wedded in neighboring Truro last Thursday in a ceremony attended by Sarah Jessica Parker and Cyndi Lauper. Locals were sure the reception went down at The Red Inn, a high-end restaurant close to Duffy's house, last weekend.
All false, said a source close to the couple. Jacobs and Martone still plan to marry at the end of the Cape but are keeping the date quiet."