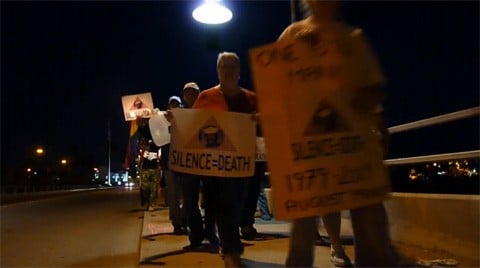 Approximately 100 people gathered at a site near Camp Pendleton on Friday night for a candlelight vigil and demonstration intended to show solidarity with the family of slain Seaman August Provost, who was found murdered at a guard post on the base on June 29: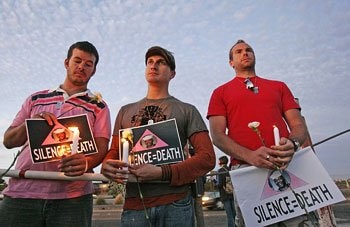 "Navy officials have said there isn't any evidence that suggests his slaying was gang-related or a hate crime. Relatives have said Provost told them he had been harassed, and theyhad urged him to report it. Rep. Bob Filner, D-San Diego, has said theNavy told his office that Provost had been killed by a man who wasattacking the base. Charges haven't been filed against the 'person ofinterest' – a sailor being held in connection with Provost's death –and no other suspects have been taken in, Navy Region Southwestofficials said yesterday afternoon. 'We wanted to send a message of solidarity to his family,'said Max Disposti, chairman of the North County LGBT Coalition, beforethe vigil. He said North County is 'so connected' to Camp Pendleton and"every time something happens in Camp Pendleton it affects thecommunity too." He said organizers picked the location along North CoastHighway near Monterey Drive because it was close to the base andvisible from Interstate 5. Some motorists honked to show support asthey passed."
A Flickr gallery of the vigil.
Provost was laid to rest on Friday in Houston: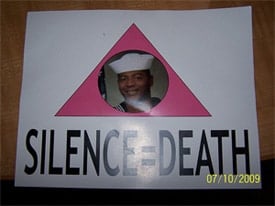 "Friends and family praised Provost for his "powerful love" of all people, never caring about sexual orientation or race. Only one longtime family friend, Allie Harrison, alluded to concern over whether the gay sailor's death was a hate crime. 'Ibelieve with all my heart the truth will be revealed and any liesuncovered,' she said from the pulpit. The service was at Wright GroveBaptist Church in the Acres Home neighborhood of Houston where Provostgrew up."
Watch scenes from the vigil, AFTER THE JUMP…
Robin McGehee speaks, and mourners march:
An ABC10 news report: