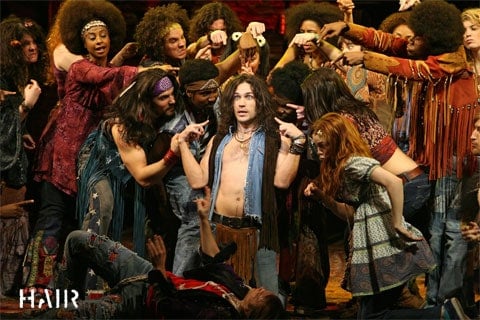 The cast of HAIR will be attending the National Equality March on October 11 and the show's Broadway theatre will go dark that evening, according to a press release:
"The announcement was made [Monday] evening by the cast of HAIR at a spirited rally in Los Angeles (the entire company of HAIR has traveled from New York to California to appear on tonight's broadcast of The Tonight Show with Conan O'Brien, AFTER THE JUMP…). The cast was joined at the rally by National Equality March organizer and historic LGBT activist Cleve Jones, Oscar-winning screenwriter Dustin Lance Black (Milk) and a handful of other prominent equality advocates. In a statement, Oskar Eustis, Artistic Director of The Public Theater and producer of HAIR, said 'The Public Theater has always aspired to make theater that matters, that speaks to the great social issues of our time. HAIR has never been just a show; its message of change and hope and inclusion is one we try to live, not just preach. This is the moment when we need to recognize the right of all citizens, gay and straight, to have their love and their unions acknowledged by the state. We are proud to join with Cleve Jones and the National Equality March in support of gay marriage.  Peace now! Equality now! Justice forever!'"
If you haven't seen HAIR, I recommend it.
Watch the cast of HAIR perform on Conan, AFTER THE JUMP…