Bishops at the convention of the Episcopal Church voted Monday to open "any ordained ministry" to gay and lesbian clergy, the NY Times reports: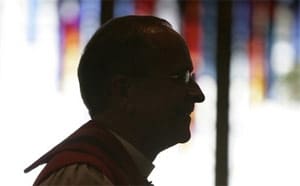 "The resolution passed on Monday was written in a way that would
allow dioceses to consider gay candidates to the episcopacy, but does
not mandate that all dioceses do so. A similar measure was
passed on Sunday by the church's other legislative body, the House of
Deputies, which is made up of lay people and clergy. On Tuesday, the
bishops' version will likely go back to the House of Deputies for
reconsideration."
The BBC adds: "The Archbishop of Canterbury Dr Rowan Williams – who is head of the
70-million-strong worldwide Anglican Communion – said it "remained to
be seen" whether the vote by the House of Deputies – made up of clergy
and lay people – would be endorsed by the US Episcopal House of
Bishops. 'I regret the fact that there is no will to observe
the moratorium in such a significant part of the church in North
America,' he added."
Said Integrity USA President Rev. Susan Russell: "There is no question that today's vote in the House of Bishops was an
historic move forward and a great day for all who support the full
inclusion of all the baptized in the Body of Christ."