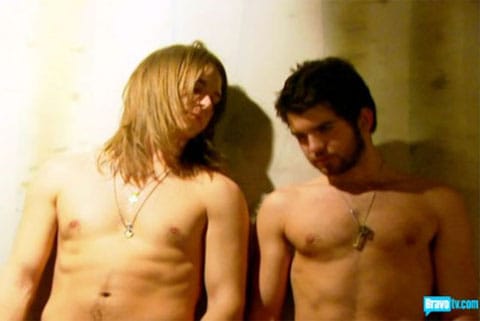 Above, a screenshot from last night's NYC Prep on Bravo, the reality show about high school students in NYC.
On Sunday, The NY Post's Page Six reported: "Billionaire Pete Peterson is said to be 'mortified' over the sneering performance of his grandson PC (above, right) on Bravo's 'NYC Prep.' 'Pete is really upset,' a friend said. PC — whose official bio says, 'Money, women and life's spoils are all he's ever known' — is seen bragging and picking on younger kids. The insider added, 'He was kicked out of several schools and the family cut him off at one point. He's doing this show to get an acting career.' Good Luck! Last week, PC was spotted getting 'super touchy-feely' with Barron Hilton at the Gramercy Park Hotel. A Bravo rep had no comment."
And Gatecrasher threw out an item too. All this said, the show itself is kind of a snooze imho.