Gays in Serbia plan September Pride parade for Belgrade: "The committee said the parade will be organized in cooperation with Belgrade police, Serbia's B92 Online reported.
The organizers said they will try to avoid incidents like those in 2001 in Belgrade when participants were injured by members of Serbian nationalist extremist groups."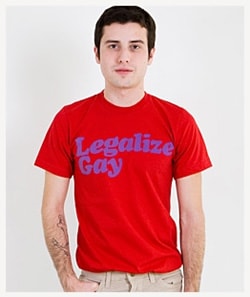 American Apparel store receives threats over "Legalize Gay" T-shirts in display window.

Another screen legend has died.

Foes of Washington's "everything but marriage" law make appointment to turn in referendum signatures.

Giovanni's Room, oldest gay bookstore in America, in trouble…

Gays in Czech Republic saddened by departure of openly gay Canadian ambassador: "'He is one of the few diplomats who are open about the fact that he is
gay. He and his partner were together at all official events,' said
Ales Rumpel, head of the Mezipatra (Mezzanine) gay and lesbian film
festival that is annually held in the Czech Republic."

Just Tax: Young Republican uses Lady Gaga's "Just Dance" to trash Democratic tax policies.

WATCH: Teaser trailer for Tim Burton's Alice in Wonderland.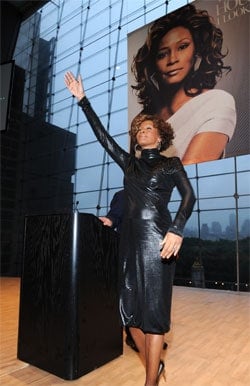 A track-by-track review and report on the listening party for the new Whitney Houston album, I Look to You.

Man arrested in Germany for underwear theft: "Usually, it's knickers that are stolen – but police found more than 1,000 pairs of used men's underpants in Michael Wolker's flat.
The underwear had been taken from the changing rooms of sports clubs and swimming pools in Gelnhausen, Germany over 18 months.
Wolker also had more than 100 pairs of swimming trunks, in addition to the underpants.
Officers raided the 56-year-old's flat after he was stopped leaving one club with three more pairs in a bag."

Meet Japan's biggest Harry Potter fan.

Ruben Diaz, Jr. on his father's homophobia.

World Outgames to begin in Copenhagen this weekend: "Nearly 100 nations will be represented, and up to 200,000 participants,
tourists and Copenhageners are expected to take part in World Outgames
2009 from July 25 – August 2. Apart from focusing on human rights for
nine days, a large number of theme festivals and an extensive cultural
and sports program will make Copenhagen the place to be."

Do hot dogs cause Alzheimer's?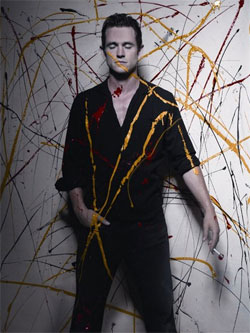 Hugh Dancy on Oscar Wilde: "I think Wilde did
something remarkable, at least by the standards of his society: He
painted his vision of life, not only by being gay, but also through his
shockingly new ideas about how we should look at art."

Burning spear question: Did modern humans kill of Neanderthals?

Socialized medicine: John Aravosis of Americablog details what happened this week when he was forced to have emergency eye surgery in France.

New report says murder rate against trans people on the rise.

Props from Lost to go up for auction: "With the final season of 'Lost' coming next year, ABC is auctioning off
these and other iconic props, set pieces, costumes and collectors'
artifacts from the show to the highest bidder. There will be a special
sneak preview of the items at the San Diego Comic-Con convention, which
gets underway Thursday. Mr. Eko's club and Kate's obsessively chased
toy plane are also up for grabs."