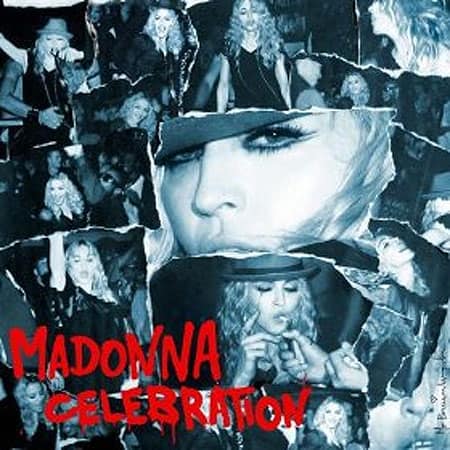 Madonna as "party girl" returns in the rumored cover art for her new single "Celebration". It's a bit strange to see a shot of her lighting up a cigarette, given the strict health regimen she so readily flaunts. But it's also refreshing to see a lighter side of her again.
I've heard the single. It's good. Matthew Rettenmund, who supplied me with this cover shot, has his analysis of the new song.
UPDATE: Listen, AFTER THE JUMP…
Also, Rettenmund, who is a font of knowledge about all things M, tells me the earlier cover art featuring just Madonna's eyes was a fake: "First, it was supposed to be a promo (front and back were shown) but it had a UPC code so was debunked. I'm awaiting official confirmation, but I can't believe it's not real until someone shows me where those photos are from." The images on this cover art are reportedly shot by Steven Klein at a party in Brazil. We shall see.
Also likely fake are those sinewy arms featured in a paparazzi photo recently: "Her rep…tells Gossip Cop, 'Madonna's arms in the most recentphotos have absolutely been altered by Photoshop or some other means.Her arms do not look like that in real life.'"
Ciaran Gribbin, a musician from Northern Ireland, who wrote the backing tracks with Ian Green and Paul Oakenfold, talks about the track.
UPDATE: Listen, AFTER THE JUMP…