The editors of Modern Tonic present a weekly music update here on Towleroad. The rest of the week, they scan the pop-culture landscape for movie, TV, book and Web recommendations in their daily email.

TODAY'S NEW RELEASES
There was a time in the 1980's when you couldn't walk into a New York City club without Book of Love's big-beat "Boy" echoing from the rafters or the celestial vibe of their "I Touch Roses" causing ecstasy among throngs of dancers. They were the U.S. version of the New Romantics without the stupid hair and pantaloons.
Now practically a footnote, Book of Love have reunited to tour this year and perhaps they'll prove where Little Boots, La Roux, Ladyhawke and a few others gleaned their 80s inspiration. If you missed the NY electro quartet in their heyday, you get the thrill of discovery with Noble Rot's CD-only reissues of their four albums — Book of Love, Lullaby, Candy Carol and Lovebubble — crammed with demos and remixes galore (their seminal, self-titled debut is reborn as a deluxe double-disc).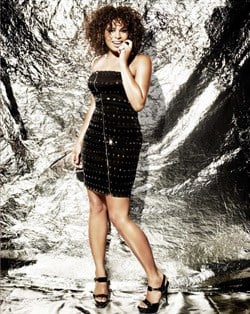 We're not sure what Battlefield Jordin Sparks refers to on her sophomore album, but from the soulful crunch of her modern pop, we're imagining an MTV's Celebrity Deathmatch for the crown of Modern Diva.
Demi Lovato releases Here We Go Again, a follow up to her hit debut Don't Forget. We're dying to know if the Disney moppet will break out of the Mouse House. OK, not really.
Matthew Sweet and Susanna Hoffs — the alt-rock troubadour and the leader of The Bangles — remake Fleetwood Mac's "Second Hand News," Carly Simon's "You're So Vain" and more on Under The Covers: Vol. 2.
Soft-rock American Idol contestant Brooke White releases her debut, High Hopes and Heartbreaks — with gorgeous originals and a countrified take on Kings of Leon's "Use Somebody."
Also Released:  Bettye LaVette — Change Is Gonna Come Sessions; The Fiery Furnaces — I'm Going Away; Blue Roses — Blue Roses; Raphael Saadiq — Live From the Artists Den (DVD); Ian Hunter — Man Overboard; Riceboy Sleeps — Riceboy Sleeps; The Starlight Mints — Change Remains; Sugar Ray — Music for Cougars. Also, new singles from Mary J. Blige ("The One"), Nelly Furtado ("Más"), and Mr. Hudson & Kanye West ("Supernova")


MUSIC NEWS

Nominations for Britain's 2009 Mercury Music Prize have been announced. Among the ten contenders

short-listed for best album by a British artist are La Roux, Florence + The Machine, Bat For Lashes, Friendly Fires and Glasvegas.

After a four-year hiatus, VH1 Divas will be back with a 2009 edition, and the initial line-up has been announced: Adele, Leona Lewis, Kelly Clarkson and Miley Cyrus. The show is scheduled to air September 17.

Gossip has announced dates for a U.S. tour starting October 7 in Washington, D.C.

Gym chain Equinox has enlisted Madonna, Cher, Stevie Nicks, Cyndi Lauper, Michael Bublé and other celebrities to create workout playlists for EQ Sessions, their in-house music program. Starting this fall, the lists will be highlighted on the gym's website, which will direct members to iTunes to buy the pre-organized tracks there.

Sony Pictures has bid $50 million for the theatrical and DVD rights to a documentary about Michael Jackson's last days,
which will include footage from his final dress rehearsal for the "This
Is It" shows. Paramount, Universal and 20th Century Fox were all shown
footage and invited to bid as well.


Mika's new single, "We Are Golden," from his forthcoming album of the same name (out September  22), is now streaming on his MySpace page. The song has been chosen as the theme for this year's Teen Choice Awards.

MUSIC VIDEOS
Miranda Lambert: "Dead Flowers"
Nashville Star's third-place finalist follows up her '07 smash Crazy Ex-Girlfriend with this big-hooked mid-tempo country crooner from her September release Revolution.
a-ha:  "Foot of the Mountain"
Our favorite animated Norwegians look more well-preserved than their New Wave compatriots on this clip from the title song of their ninth album. If this is what years of eating salmon does for your skin tone, pass the lox now.
Big Bang: "Gara Gara Go!!"
The new single from the most popular Korean boy band. Clearly, AutoTune, Backstreet Boy worship and hip-hop style transcend all borders.
MPHO: "Running Up That Hill"
The U.K.-via-South Africa singer Mpho (pronounced Mmmm-poh) Skeef turns Kate Bush's wailing battle-of-the-sexes into a jazzy ballad on this live clip from the so-called Brixton Pop Maverick .