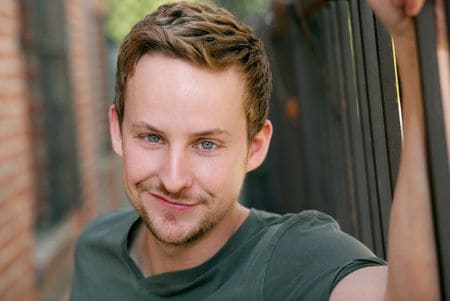 Thirty-three-year-old Florida native Stephen Guarino is a versatile out performer who just happens to be best known for a few deftly executed screen queens so flamboyant even Bruno might be tempted to bully them. In selected sketches from Logo's The Big Gay Sketch Show—on which he's been a series regular for all three seasons—and in the films Confessions of a Shopaholic and the Nia Vardolos romantic comedy I Hate Valentine's Day (in theaters tomorrow), he's the go-to girl for gay, gay, gay.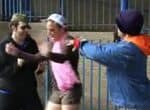 But along with spinning gold from stylized sissies (I'll never forget his tragic boa boy, barely rescued from savages by
Super Liza
), Guarino is
The Big Gay Sketch Show
's best straight man and has played characters as diverse as Russian dancer Svetlana, vapidity poster child Chad Michael and Ron Odyssey, a customer-service rep more confounding than anything on TV since Miss Swan. The third season of 
The Big Gay Sketch Show 
will air on Logo in January 2010.
Towleroad talked with him this week in advance of the July 24 Los Angeles debut of his Off-Broadway improv musical 
The Nuclear Family
, featuring Guarino, Jimmy Ray Bennett, John Gregorio and Matthew Loren Cohen, at
needtheater
. It's a show close to Guarino's heart, one he describes as not being "comedians joking around about singing and dancing; we actually sing and dance and do improv."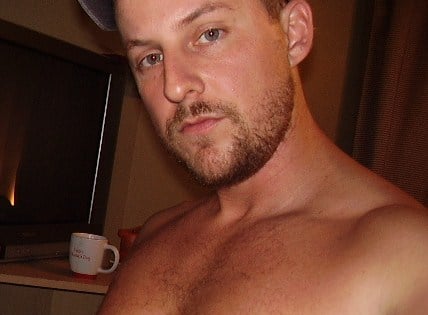 "I would say I had a class-clown defense-mechanism thing. Unfortunately, it was that '90s thing where you were funny because you were sarcastic and cruel, so I did that for a long time and then that kinda bit me in the ass after a while because I only really made a lot of friends by being relentlessly mean. I was really a mean girl in high school…even though I was a goofy-looking drama boy."
A Popular Hang-Out
"I remember having sexual feelings on boy scout trips toward some of the older guys that would chaperone us, though I didn't know sort of what that meant. Although I do remember I spent one trip when I was 12 or 13 sitting in the middle of the canoe because I was the fat kid and the older guy that had accompanied us who was steering the canoe, his whole nutsack was hanging out of his shorts the entire ride. That was my first sexual image, before I saw tits or anything."
Confessions of a Teenage Queen's Drama
"I was really popular—I was runner-up Mr. Deltona High. I would've won…I was supposed to win. Veronica from the Juniorettes asked me to run and of course I accepted because if you go with the Juniorettes, you win. But as the president of the drama club, it was apparently my duty to have drama club sponsor me. I had a big fight with the drama teacher because I literally yelled in her face, 'Well, if I go with drama club, I'm gonna lose!' She eventually convinced me and I told Veronica at lunch and she said, 'Well, I guess Jean-Claude just won.' And Jean-Claude did win."
"It was very popular to be gay in my high school I was very talkative about being gay. Everybody had a boyfriend and everybody was bisexual. My friends all knew and I was hooking up with guys. I actually told my parents legitmately—they already knew—when I was 15 or 16."
Off the Top of His Head
"I got into improv when I joined a group in college named for our Frisbee we would throw around—Wham-O. What drew me to it is it really curbs my A.D.D. because it's instant gratification. I can get a laugh out of an audience without doing any rehearsal or preparation, which has really hampered and fragmented my theatrical training. It's when I have to learn lines and be something in particular that gets me nervous."
Openly Gay for Pay
"When I auditioned for
The Big Gay Sketch Show
. I had done gay stuff, but hadn't really exposed myself in a gay way. I knew if I got it they'd push a prideful, out agenda. I just thought, 'Well…? Who the hell cares? 'Cuz I want the money.' [Laughs] Doing that show, it's like everyone's your friend and 

you're all gonna go to the same bar after. I literally was working coat check if not at a restaurant for the last seven years before I got it. The moment I got it I stopped working a regular job ever and that was like five years ago. And because of it I got
Law & Order
and because of that I got
The Wedding Bells
and because of that I got a movie. I'm gonna be 34 and I'm a little stuck in a gay corner, but I would never say it wasn't worth it. I was up for and was first choice for a straight detective on an ABC show and ended up not being able to do it because of my contract with Logo, but I just remember confidently auditioning, getting it and having the director and everyone know I was gay and not caring."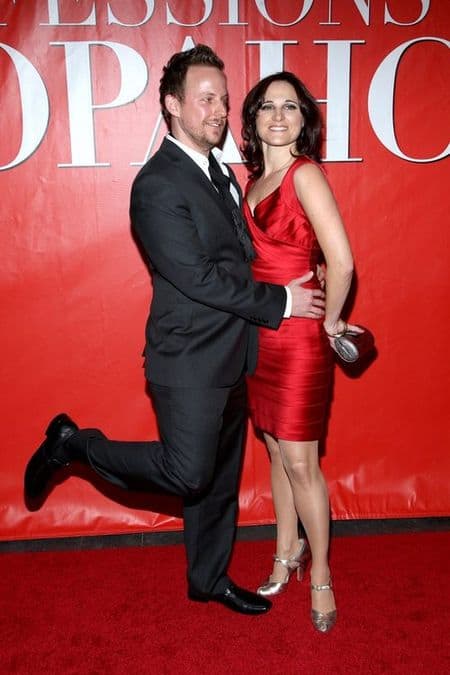 Bearded and with beard (the raised foot cancels her out) Nicol Paone at the
Confessions
premiere.
"The queen is not my normal temperament, but I'm good at performing it in the same way that an American-born Pakistani-looking guy gets really good at performing a Pakistani accent. My friend Amir [Arison] and I are the same person—he gets cab drivers, terrorists. This guy is stuck in Brownland, he calls it. [Laughs] I can walk into an audition and do a great fuckin' receptionist, hairdresser, florist. I know how to do it and make it original."
The Gay BFF Role—Our Own Worst Enemy?
"We get to a point where we can pick and choose quality parts. But we can't all be Debra Winger and pick nothing and 20 years have gone by. I like to pretend I have integrity, but it's like saying, 'Wow, Butterfly McQueen shouldn't have taken that part in Gone With the Wind!'"
Big Gay Fans
"I always had moderate notoriety from The Big Gay Sketch Show here and there, but when I went to Columbus Pride it was just outta control! Maybe they watch more TV in Ohio, but everybody knew me and my characters. No one, like, cried and told me I changed their lives while they were lying in bed with cancer, I just got, 'We think you're cute and you make us laugh.' And lots of, 'Thanks for coming to Columbus!' I'll go anywhere if there's a ticket and a hotel. I love getting validated anywhere."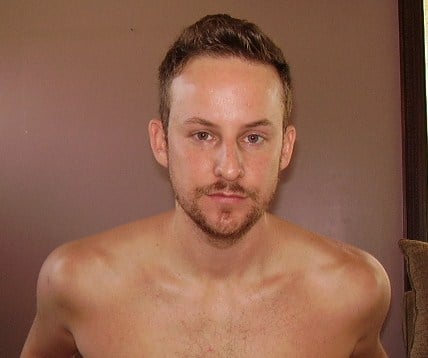 Size Matters
"On a massive movie like Confessions of a Shopaholic [$100 million worldwide gross], that was the highest-stakes thing I've done, but also the least creative—200 people on set, trailers, businesspeople, assistants, baby handlers, cars, paparazzi…it was intense. We had one read-through. Still, I enjoyed the task of a huge-set environment like that. My default when I'm nervous is to consume everything. I do the opposite of shying away—I eat everyone alive."
"I Hate Valentine's Day was fuckin' wonderful. I was so thankful because I didn't get it at first. It was down to two bears—Danny Burstein from South Pacific and this guy Carl—and Amir and I. I thought, 'Oh, fuck, I would hire them.' And they got it, but Danny couldn't leave South Pacific if he got nominated for a Tony, so it was a win-win. He got the nomination and we got the parts. I showed up very humble to a low-budget situation where everybody was working in 110-degree heat and working with a director who's so busy because she's in front of the camera, too. On top of it all, it was all improv."
"I'm single. Desperately. 'Desperately' implies I don't wanna be, which is not necessarily true. I'm single because I'm sexually compulsive, so it's hard to just have sex with one person. What else? [Laughs] I travel so much and since I don't do drugs and I'm trying not to drink a lot, my only vice is cruising for fun sex. I've always found sex to be my favorite hobby. But I'm up for a boyfriend. I used to go for damaged goods, the whacked-out, random guy, kinda poor. Now I'm turning into an upper middle class white lady who needs a man whose schedule is defined and has time off to travel and has affluent friends who I can go to interesting dinner parties with. [Laughs] I also want a boyfriend who can only see me once a week because he's so busy. I always meet guys with seven nights free and they're like, 'Call me.' And I'm like, 'I can't. That's my night to sit in my house and masturbate to someone else.'"
Feets, Don't Fail Me
"Physically, you have to be non-tall, non-blond, short, have dark hair, squatty-to-beefy, and I'm willing to accept everything, little dicks, whatever—except they have to have hot feet. Otherwise, I'm going to cheat on them. You can not sexually satiate me without them."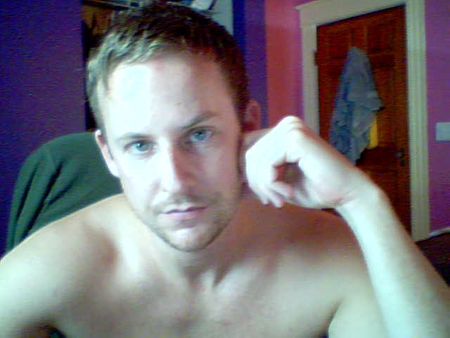 His Privates Aren't
"How stupid for famous people to be upset when their sex pictures leak? If you look hot in them, it can only help. I have every intention of releasing a sex video. I've already got it ready. I do have an anonymous one on Xtube—no one can tell at all. But I don't care—I look great in it and I'm having sex with the hottest guy I've ever seen. What am I auditioning for that's morally conscious? I'm nobody's role model…and I hope I never am." [Laughs]