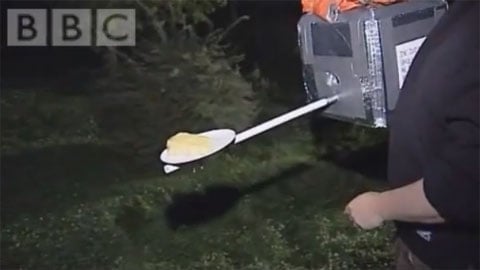 West Country Cheesemakers attempted to launch a wedge of cheddar cheese into space this week, the Daily Mail reports:
"The 300kg wedge was attached to a weather balloon and was fitted
with a digital camera to take pictures of the cheddar in outer space. Organisers
even fitted an on-board GPS satellite system which was supposed to
track the intergalactic dairy product failed shortly after take-off. It floated up to the edge of space at 18.6 miles (30km) above sea
level, where the 1.6m-wide helium balloon was expected to burst. Organisers hoped the record-breaking capsule would then fall gently down to earth on a special parachute. But
it is still unclear whether the balloon succeeded in its bizarre
mission until the missing capsule and its contents is found."
Watch the cheese launch here.