WFAA reports: "A third investigation is being launched into the controversial raid of a Fort Worth gay bar. The U.S. Attorney General's office will conduct an independent probe of
the June 27 joint raid on the Rainbow Lounge. Fort Worth
Mayor Mike Moncrief had already asked the federal agency to review the
police department's findings, but now the mayor and City Council
members have endorsed the independent investigation."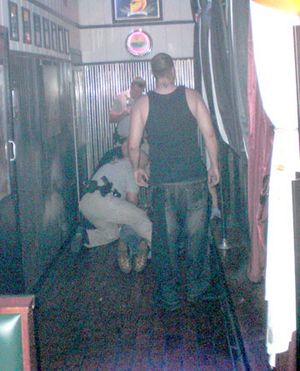 It will actually be the fourth investigation, according to the Dallas Morning News: "The Texas
Alcoholic Beverage Commission is investigating the conduct of two of
its officers, and the Fort Worth Police Department has launched two
parallel probes – one by the internal affairs department and one by the
major case unit."
Also, "Hours after
the request for federal intervention, Fort Worth officials released
hundreds of pages of personnel records on five of the seven officers
involved in the raid. The release came in response to an open records
request. Officials said they accidentally left out the records on the
other two officers and planned to release them soon. At least one of the officers involved in the raid has a documented history of misconduct, according to the records. Officer
Jason R. Ricks, 32, was disciplined multiple times in 2006. In the most
serious case, New Braunfels police arrested him on an assault charge in
July of that year after he punched a bus driver in the face during a
fight, the records show. Ricks was off-duty and had been drinking for a
few hours, he told investigators. The charges were later
dropped, but one of Ricks' supervisors, Captain W.A. Read, wrote in a
September 2006 letter to a deputy chief that Ricks had 'shown a history
of poor decisions and bad judgment.'"