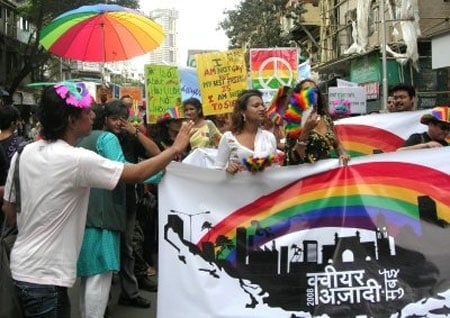 "The Delhi High Court ruled that treating consensual gay sex as a crimeis a violation of fundamental rights protected by India's constitution.The ruling, the first of its kind in India, applies only in New Delhi…But some religious leaders quickly criticized the ruling. 'ThisWestern culture cannot be permitted in our country,' said MaulanaKhalid Rashid Farangi Mahali, a leading Muslim cleric in the northerncity of Lucknow…The court's verdict came more than eight yearsafter the New Delhi-based foundation filed its petition — not unusuallylong in India's notoriously clogged court system. The verdict can bechallenged in India's Supreme Court…The court's verdict, however, should protect New Delhi's gay community from criminal charges and police harassment."
Rex Wockner has posted some excerpts from the opinion.
Earlier…
The Delhi High Court is set to rule tomorrow on Section 377 of the Indian Penal Code, a law punishing gay sex with up to 10 years in prison. The law was put in place by British colonists in 1861. Activists, and health officials have been pushing for its repeal for years. Last August, India's Health Minister Anbumani Ramadoss spoke out against it, saying it inhibits the government's ability to fight AIDS in the country.
Last October, the Delhi High Court demanded scientific evidence and not religious texts as justification for the country's continued criminalization of homosexuality. India's Home Ministry has been firm in its opposition.
On Sunday, activists in Delhi and other cities took to the streets. It was Delhi's second gay parade.
Watch a news report on it as well as some interviews, AFTER THE JUMP…
India LGBT group Queer Media Collective released a statement:
"The Queer Media Collective welcomes the Delhi High Court's decision, in the Public Interest Litigation filed by Naz India and Voices Against 377, to read down Section 377 of the Indian Penal Code so that it no longer applies to consenting adults.
Section 377 has been used to criminalise homosexuals in India, and by removing consenting adults from its purview the Delhi High Court has made a powerful statement on the importance of respecting basic human rights of queer people in India.
By making this decision the Delhi High Court has also acted to correct a historical injustice. Section 377 of the Indian Penal Code was imposed by the British on the historically tolerant attitudes to sexuality that have always existed in India. The law has continued to exist in India long after the British changed their laws in the UK.
Because this law continued to exist in India thousands of people have suffered harassment, discrimination and blackmail simply because they chose to love someone of their same sex. Lesbian couples have been forced to commit suicide, gay men have been blackmailed and forced into marriages that damage both themselves and their wives, and transgendered people have suffered continual violence – for none of which they have had recourse because under Section 377 they all were criminals just for being who they were.
Across the world countries that value tolerance, diversity and the importance of the freedom to lead one's life without harming others have stopped treating homosexuals as criminals. In India people from all walks of life, including legal scholars, intellectuals like Amartya Sen, Vikram Seth and Swami Agnivesh (who signed a letter supporting this case), media and Bollywood personalities and politicians like Health Minister Ambumani Ramadoss have all affirmed the need to change this law.
Now with this decision of the Delhi High Court India has taken the first step towards this much needed change. We call on the Indian government to support this decision. We call on other courts to take note of this judgement. We call on the police to stop any harassment of queer people. And we call on all people, in India and abroad, to welcome this verdict as a victory for basic common sense and basic human rights."