Pulitzer Prize-winning author Michael Cunningham tells Entertainment Weekly that he's about two-thirds finished with a new 250-page novel called Olympia that may be completed by September.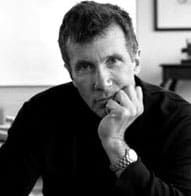 Says Cunningham: "Peter is the central character. He's an art dealer and he finds that he
is increasingly drawn to his wife's very much younger brother, who
evinces for him everything that was appealing about his wife when he
first met her. He's not gay. Well, he's probably a little gay because
we're all a little gay, right? But it's certainly eroticized. It's not
because he wants to f—  this boy. The boy is like the young wife."
You can read an excerpt from Olympia at Electric Literature. The excerpt, according to EW, is about "the relationship of two brothers growing up in 1970s suburban
Milwaukee, the flamboyantly gay Matthew (he even figure skates!) and
his younger brother, the presumably straight Peter."
Michael Cunningham [official site]