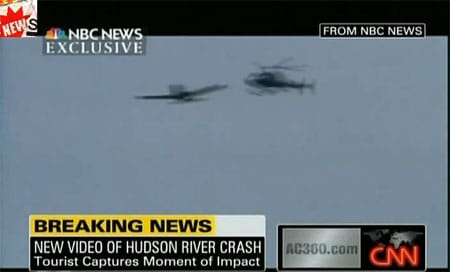 New video of last weekend's crash of a helicopter and small plane over the Hudson river has surfaced. It was shot by an Italian tourist and reveals the frightening moment when the two crafts collided and appears to show the plane attempting to bank up at the very last minute when it was much too late.
Watch it, AFTER THE JUMP…
An air traffic controller and his supervisor have been suspended in investigations following the crash. The controller was on the phone with his girlfriend at the time and the supervisor wasn't even in the tower, the NYDN reports:
"Horrified officials called their actions 'unacceptable,' even though they were not blamed for Saturday's crash.Both controllers – who were not immediately identified – have been suspended and will likely be fired.Crash probes by the National Transportation Safety Board and the Federal Aviation Administration revealed the two controllers seriously deviated from their assignments at the time of the collision."