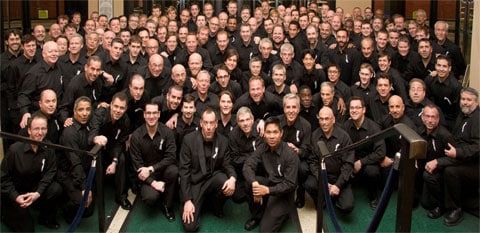 The New York City Gay Men's Chorus is struggling to stay afloat due to "severe financial problems" according to a press release from the group, which was founded in 1979 and was the first gay chorus to perform in Carnegie Hall, Lincoln Centerand the Kennedy Center, the first American gay chorus to tour Europe,and the first to have a recording contract with a major label.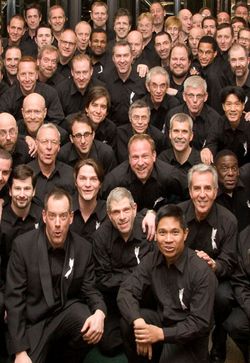 Said Rick Clodfelter, Chairman of the Board of Big Apple PerformingArts, Inc., the umbrella organization for the NYCGMC: "Like so many nonprofit arts organizations in this economic downturn, we are hurting. Decreasing donations, limited resources and the rising costs of production make it more difficult than ever for a community arts organization to survive. Our goal is to raise $500,000 to enable us to retire debt, proceed with our 30th season and ensure we are better positioned to advocate for equality in the future…Artistically, we are the best we've been in years due to the directionof Dr. Charles Beale, former director of the London Gay Men's Chorus,who joined us two years ago. However, NYCGMC has always been about much more than putting singers ona stage. At a time when LGBT visibility wasn't as prevalent as it istoday, the Chorus provided an opportunity for New Yorkers to see out,proud gay men on stage. Today that seems commonplace, but thirty yearsago, it was revolutionary. And just as the LGBT movement has evolved,today the Chorus voices its support for marriage equality, LGBTQ youthsupport and other issues relevant to the community."
According to the group, "The planned 30th anniversary season, which begins in September, features a return to Town Hall for the Holiday concert. The NYCGMC first performed there in 1980. The spring concert will be another installment of the hugely popular 'Big Gay Sing,' and the summer concert, 'Addicted to Love,' will look at both a light-hearted view of love and feature 'Through a Glass, Darkly,' a provocative piece about crystal meth addiction, a scourge not just to the gay community but well beyond."
To make a tax deductible donation or find out more about the New York City Gay Men's Chorus, visit its website.
Watch the NYCGMC perform "House of Love" with Shoshana Bean at the Defying Inequality benefit concert, and also a brief clip from the group's appearance on America's Got Talent, AFTER THE JUMP…