Texas Alcohol Beverage Commission agents were cited for 19 policy violations related to the June 28 raid at Rainbow Lounge in Fort Worth, Texas which left bar patron Chad Gibson hospitalized with serious head injuries. The agents involved face disciplinary action. A separate investigation is being conducted on whether the agents used excessive force. The results of that probe will be released at a later date.
In mid-July, Texas Alcoholic Beverage Commission administrator Alan Steen apologized for the raid, saying the agency clearly committed "multiple violations" and used an "excessive show of force."
Said state Rep. Lon Burnam, D-Fort Worth said of the new report: "There were so many violations that one could readily assert that they had no business walking through the door."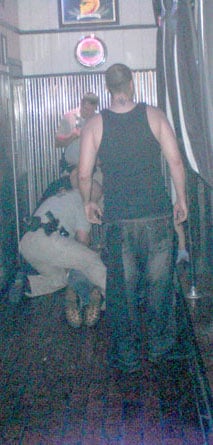 Agent Christopher Aller received the most violations of the three agents involved. They are:
Participated in a joint operation (bar inspections) with the Fort Worth Police Department on 06-28-09 without approval.
Failed to submit a complaint card against the Rainbow Lounge for investigation of possible lewd conduct and sale to intoxicated persons on 06-25-09.
Failed to follow instructions on Operational Plan of Red Bull X-Fighters Freestyle Motocross special event on 06-27-09 (left prior to end of assigned shift without approval).
Conducted pre-arranged bar inspections at the Rosedale Saloon, Cowboy Palace, and the Rainbow Lounge on 06-28-09 in unapproved attire (special event uniform).
Failed to follow bar inspection procedures on 06-28-09 at locations listed under allegation #4.
Failed to report use of force incident involving arrest of Chad Gibson during bar inspection at Rainbow Lounge on 06-28-09.
Failed to report injury of person (Chad Gibson) arrested during bar inspection at Rainbow Lounge on 06-28-09.
Disruption of business during bar inspection of Rainbow Lounge on 06-28-09
Agent Trainee Jason Chapman and Sergeant Terry Parsons face seven and four similar violations, respectively.