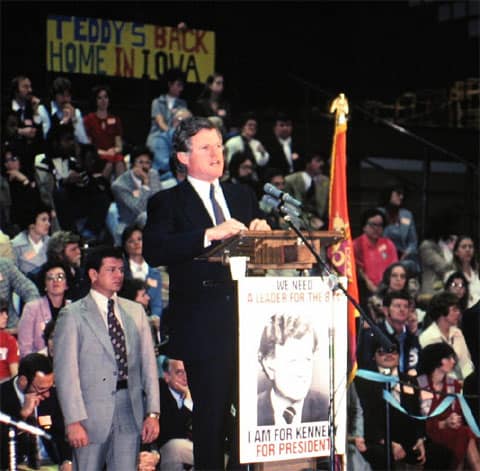 Photo by Rex Wockner c. 1979, Des Moines, Iowa.
UPDATED

Kennedy lost his battle with brain cancer late last night.
Said the family in a statement: "Edward M. Kennedy – the husband, father, grandfather, brother and unclewe loved so deeply – died late Tuesday night at home in Hyannis Port. We've lost the irreplaceable center of our familyand joyous light in our lives, but the inspiration of his faith,optimism, and perseverance will live on in our hearts forever."
The loss was felt deeply by the nation's LGBT community.

Fearless leader in the fight against hate crime…


AMFAR CEO: An unrivaled ally in the fight against AIDS.


GLSEN: "If the Safe Schools Improvement Act, currently introduced in the House,becomes law, it would be a testament to Senator Kennedy's insistencethat all students must be protected in any federal anti-bullying policy."


National Gay & Lesbian Task Force: Edward Kennedy "spent his life fighting for justice…"


Human Rights Campaign: "The nation has lost its greatest champion and strongest voice forjustice, fairness, and compassion. The loss to our community is immeasurable. There was no greater hero for advocates of LGBT equality than SenatorTed Kennedy." RECORD on gay rights…GLAAD: "From the outset, he valued our contributions and supported our equality."


Boston LGBT community members remember Kennedy…


David Mixner: My memories of Senator Kennedy.


VIDEO: NYC Council Speaker Christine Quinn.


A Lion in Winter (of 1972): Courage when few others had it.
Kennedy speaking at the 2008 HRC Equality Convention, AFTER THE JUMP…