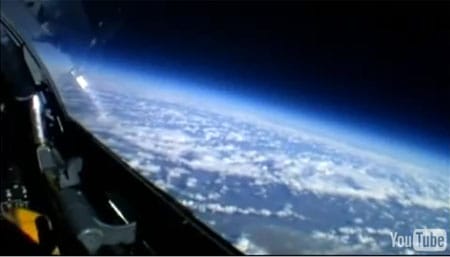 Top Gear's James May takes the show's viewers in a flight on a U2 spy plane.
Gizmodo writes: "The Lockheed U2 is an amazing plane, developed to spy enemy countriesby the CIA and the United States Air Force. Flying at 70,000 feet, theU2 can fly day or night, rain or sun, photographing ground facilitieson very short notice, something that satellites can't do. It wascreated in the 50s, flying for the first time in 1955, and despite somebeing shot down over the Soviet Union, Cuba, and China, the fleet isstill in use today."
Below, a commercial airliner as seen from the U2.
Watch, AFTER THE JUMP…