As the error rate climbs again in the signature count on Referendum 71 in Washington state ("Last week it was around 10.5 percent and, as of today, it's up to 11.67 percent. If the error rate exceeds 12.43 percent, R-71 won't make the November ballot.") , right-wingers who are behind the anti-gay measure are accusing election workers of bias and blaming gays for telling workers to count faster: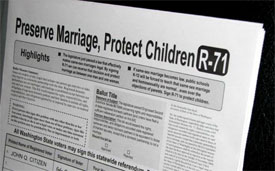 "Gary Randall of the Faith and Freedom Network, part of the campaign group called Protect Marriage Washington, made its allegations in an e-mailed 'state wide call to action and prayer,' saying the 'homosexual lobby' had pressured the Secretary to accelerate the signature check. That had the effect of boosting the group's error rate due to 'carelessness and/or sympathy for the other side,' he wrote. The group flooded the Secretary's offices with hundreds of phone calls, emails and blog comments."
Strangely enough, there were no peeps from the right-wingers when the error rate dropped. Referendum 71, if it reaches the ballot, could repeal the state's "everything but marriage" law. A "yes" vote on the referendum would be to sustain the measure; a "no" vote would overturn the law.