Alex Myros, former football player for the London Silverbacks, who three months ago received a Red Cross Rescuer Award for assisting two other players in pulling two children from a burning car wreck in northern Indiana, is now wanted for aggravated assault, assault with a weapon, forcible confinement, and two counts of uttering death threats in the anti-gay assault on Brandon Wright in early September.
On Monday I posted about how Wright had leapt from a moving truck to escape the assault, as reported by Xtra:
"Brandon Wright, an event manager and modelling agent, says a man who
called himself Alex approached him online via instant messenger. The
man told Wright he was an aspiring model looking for work. Wright
arranged to meet Alex near a variety store on Kipps Ln near Adelaide St
in London. After meeting, Wright told the man that he wouldn't be able
to help him find a modelling job.  'He just didn't have the looks for
it,' says Wright.  The man then told Wright that he wanted to show him
something in his
truck. When Wright climbed into the passenger side he says the man
said, 'Because you're gay you need to be punished. I'm going to fucking
kill you and you're a faggot.' The man then drove off with Wright still
in the passenger seat. 'He started hitting me with a big, black, heavy
object,' says Wright. 'He kept repeating, 'I'm going to fucking kill
you faggot.'' Wright says the attack continued even while the man was
driving. Wright jumped out of the moving truck to escape."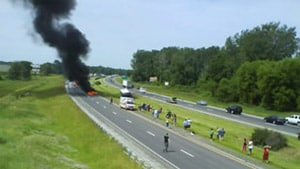 CNews reports: "On June 21, the Silverbacks were returning home from a game in
Indianapolis and were travelling on Interstate 69 in northern Indiana,
just south of the Michigan border, when a southbound SUV, driven by the
16-year-old daughter of PGA tour player Chris Smith, blew a tire and
slammed into the team's Greyhound bus. The SUV exploded in flames and Myros and two other members of
the team were hailed as heroes — they received the Red Cross Rescuer
Award — for pulling the girl and her 12-year-old brother out of the
burning SUV. The children's mother, Beth Smith, died at the scene. Silverbacks owner Al Lazar said Myros, who'd suffered a few
injuries, was cut from the team Sept. 1, the deadline for teams to
reduce their roster. Lazar was shocked by the news. 'He's always been a good member of the team and we were
certainly proud of what he did in the crash,' said Lazar. 'But this
comes as a shock. Alex isn't that kind of person.'"
Wright sustained a dislocated shoulder, deep gashes to his scalp and check, ruptured blood
vessels in his left eye and severe bruising on his left side in the attack.