The anger in Atlanta over the abusive police raid on the Atlanta Eagle bar last Thursday is not subsiding.
Via GLBT – ATL: In protest of the violent raid on the 22-year-old Atlanta Eagle bar on September 10, GLBTATL and members of Atlanta's LGBT community (and supporters) will be gathering in front of Atlanta City Hall on Saturday, September 19, at 12:00 p.m.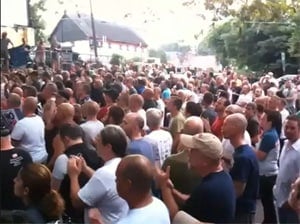 Organizers write: "GLBTATL, made up of members of Atlanta's LGBT community, and our allies
are highly concerned with the Atlanta Police Department in their
handling of the police action against the Atlanta Eagle bar on
September 10, 2009. We believe that no person, regardless of sexual
orientation, race, or other aspect, should be treated in the manners
alleged in the official complaints. We are further disappointed in the
sluggish response from the Atlanta City Council, and particularly with
the abject silence of Mayor Shirley Franklin. We join with other local
and national groups in calling for an immediate, transparent
investigation into the events. Should the allegations of improper
police conduct prove true, the offending parties should be prosecuted
to the fullest extent of the law. As community leaders, we want it to
be understood that our trust in the protection and dedication of
Atlanta Police Department officers has been violated."
More information here.
Our coverage of the events leading up to this protest:
Complaints Reveal Sick Treatment of Gays During Atlanta Bar Raid [tr]
Atlanta City Council Hears from 20 Upset Over Eagle Bar Raid [tr]
City Council to Hear Grievances Over Atlanta Eagle Police Raid [tr]
Atlanta Police Chief Says Sexual Activity Prompted Gay Bar Raid [tr]
Hundreds Turn Out to Protest Raid on Atlanta Eagle Gay Bar [tr]
Report: Staff, Patrons Arrested in Raid of Atlanta Eagle Bar [tr]