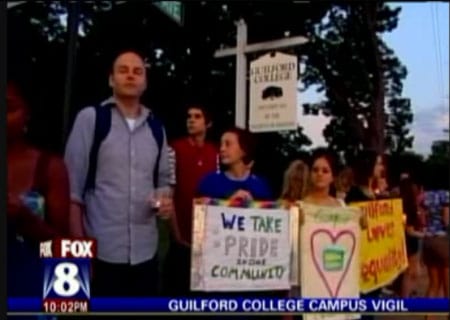 Several hundred students at Guilford College in Greensboro, North Carolina held a vigil last night in support of a gay student who was targeted last week. The student received a threatening note on his door and a rock through his window with a note attached.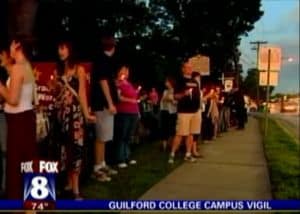 The note read: "You don't deserve life like the rest of the world. It's bad enoughwith out all the gay crap pulling people down. It's sick, unnatural,and death is almost too good for you. Almost."
The News & Record reports: "College President Kent Chabotar said the school has since held opendiscussions about the incident and used it as a learning opportunity. He said the incident violates the campus conduct code, and the school is trying to find the author of the two letters. 'Until we find them and until they are proven guilty, we have due process here,' he said. 'If we didn't, we'd be doing the same stuff as the person who did this was trying to do — taking away people's rights.' The several hundred people circled outside Bryan Hall included faculty, UNCG students and community members. They first lined the corner of Friendly Avenue and New Garden Road,standing shoulder-to-shoulder with candles and rainbow-themed signs.Then, they marched down Eli Coffin Drive, passed Founders Hall andmoved onto the lawn."
FOX8 attended the protest and talked with students and faculty. Watch it, AFTER THE JUMP…