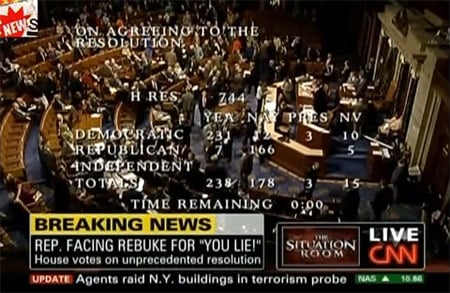 The House of Representatives this afternoon passed a resolution, which was introduced earlier by Rep. Steny Hoyer (D-MD), rebuking Joe Wilson for his "you lie!" outburst during President Obama's health care speech. 
The vote, and Hoyer's speech, AFTER THE JUMP…
Conservatives have already begun screaming "hypocrisy", pointing to a 2007 speech by Rep. Pete Stark, calling Bush a liar. Joe Wilson apologized shortly after the outburst, but the Democrats are apparently asked for one on the House floor, and he refused, according to Crooks and Liars.
They write: "If there is any hypocrisy here, it is on the part of Republicans. Theywanted to censure Pete Stark, but couldn't do it since they were in theminority (remember – elections have consequences). But when it comes toJoe Wilson, they are circling the wagons."