In early September, we published a list of 140 endorsers of the National Equality March on Washington D.C., set to take place October 10th and 11th. We can now add to that.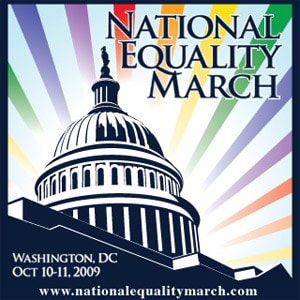 Towleroad has learned of a number of new high-profile endorsements, this time from the entertainment industry and religious community. Said national co-chair of the March David Mixner: "Momentum for the March continues to grow and we are so honored to have the support of so many distinguished leaders from across the country."
The National Equality March seeks equal protection in all matters governed by law in all 50 states.
Oscar-winning producer Bruce Cohen praised the entertainment industry for coming forward in support of the March, "We are thrilled to have this impressive, ever-growing group of extraordinarily talented entertainment industry luminaries from stage, screen, television and the arts endorsing the march. As the demand for full LGBT Federal rights grows in all corners of the country, adding the support of these wonderful LGBT and straight friends of ours will continue to broaden the impact of what is being planned for October 11th in our nation's Capitol."
Added Rabbi Denise Eger, president of the Pacific Association of Reform Rabbis: "The importance of the National March for Equality for LGBT civil rights is being articulated through the Religious and Faith communities. Jewish national leaders and faith leaders understand that equality and justice stem from the message of welcome and love.  We are joining together to lift up this message of full civil rights."
Earlier today, it was revealed that WordPerfect creator and gay philanthropist Bruce Bastian has pledged $100,000 to help fund the March. It was also announced that on Saturday, October 10,
the day before the actual march, discharged military veterans Lt. Col
Victor Fehrenbach, CPT Anthony Woods, Lt. Dan Choi, SSgt Eric Alva, and
others will hold a 15-minute "Don't Ask, Don't Tell" ceremony at
Arlington National Cemetery.
Here are the new endorsers of the March:
ENTERTAINMENT INDUSTRY ENDORSEMENTS
Calpernia Addams, author, actor and musician
Jane Anderson, Emmy Award-winning screenwriter, playwright and director
Paris Barclay, Emmy Award-winning director
Annette Bening, Oscar-nominated actor
Greg Berlanti, writer, producer and director
David Dean Bottrell, screenwriter
The Rev. Canon Malcolm Boyd, author and Episcopal priest
Victor Bumbalo, actor and playwright
Ilene Chaiken, creator, writer, and executive producer, "The L Word"
Wilson Cruz, actor
Dana Delaney, Emmy Award-winning actor
Ronald Dennis, actor, dancer, and singer
Melissa Etheridge, Grammy Award-winning singer-songwriter and musician
Joely Fisher, actor
Carrie Fisher, actor, screenwriter and novelist
James Franco, Golden Globe Award-winning actor
David Marshall Grant, Tony Award-nominated actor
Ellen Greene, Tony Award-nominated actor
Trebor Healy, poet and novelist
Helen Hunt, Academy Award-winning actor
Dave Koz, Grammy Award-nominated musician
Susan Krebs, jazz vocalist
Swoosie Kurtz, Emmy Award-winning actor
Chad Lowe, Emmy Award-winning actor
Camryn Manheim, Golden Globe Award and Emmy Award-nominated actor
Ewan McGregor, Golden Globe Award-nominated actor
Sir Ian McKellen, Tony Award-winning and Academy Award-nominated actor
Julianne Moore, Academy Award and Golden Globe Award-nominated actor
Max Mutchnick, Emmy Award-winning producer
Kathy Najimy, actor
Ken Page, actor and cabaret singer
Peter Paige, actor, "Queer as Folk"
Pauley Perrette, actor and civil rights activist
Felice Picano, PEN Award-winning writer
David Hyde Pierce, Emmy Award and Tony Award-winning actor
David O. Russell, director
Meg Ryan, actor
Eduardo Santiago, author
Mark Thompson, author and gay activist
Marisa Tomei, Academy Award-winning actor
Liz Torres, Emmy Award and Golden Globe Award-nominated actor
Gus Van Sant, Academy Award-nominated director, "Milk"
Ann Walker, actor
FAITH LEADERS
Rev. Samuel Chu, Interim Executive Director of California Faith for Equality
Rabbi Mark Diamond, Exec. Vice President of the Southern California Board of Rabbis
Rabbi Ellen Weinberg Dreyfus, President of the Central Conference of American Rabbis
Rabbi Denise Eger, President of Pacific Association of Former Rabbis
Rabbi Dr. David Ellenson, President of Hebrew Union College
Rabbi Steven A. Fox, Exec. Vice President of the Central Conference of American Rabbis
Rabbi Steven B. Jacobs, Chair of the Progressive Jewish Foundation
Rabbi Sharon Kleinbaum, Senior Rabbi of Congregation Beth Simchat Torah, NYC
Bishop Eugene Robinson, Episcopal Diocese of New Hampshire
Rev. Susan Russell, President of Integrity
Rev. Neil G. Thomas, Chair of California Faith for Equality and Sr. Pastor MCC
Rabbi Eric Yoffie, President of the Union for Reform of Judaism