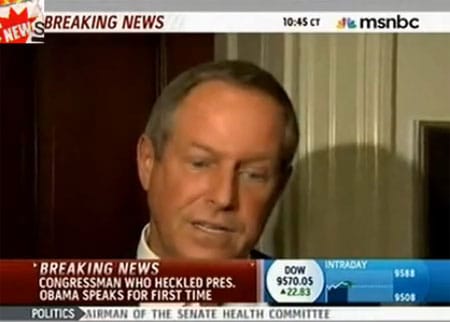 Rep. Joe Wilson (R-SC) talked to the press about his outburst at Obama during last night's joint session of Congress. 
Watch, AFTER THE JUMP…
Since the outburst, angered Americans have raised nearly $150,000 $450,000 for his opponent Rob Miller. House Speaker Nancy Pelosi said she considered gaveling the congressman out of order "but decided against calling out the South Carolina Republican in front of a national audience," according to Politico. Some wingnuts are trying to argue that Wilson's outburst was provoked by the stress of having four kids in the military.
Senator Arlen Specter has called for the censure of Wilson.
Obama said he has accepted Wilson's apology: "I'm a big believer that we all make mistakes."
Watch Wilson's and Obama's interview, AFTER THE JUMP…