WPLJ DJ Blake Hayes reported that he and his friends (Broadway performer Danny Calvert and another friend) were walking down 9th Avenue in Hell's Kitchen when they were attacked in an anti-gay assault outside McCoy's Bar.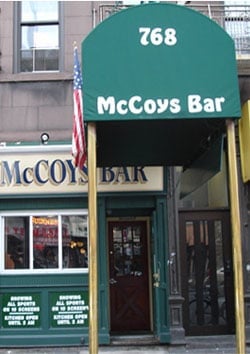 "Walking down this usual block, a friend turned when a lit cigarettebutt was thrown at him.  'Keep moving, faggot.'  We all stopped,shocked to hear these words in what is normally such an accepting,gay-friendly neighborhood, in New York, such an open-minded city. We exchanged words, more and more heated, until he started toapproach us, threatening violence.  Before we knew it, he had thrownone friend against a car, denting it.  The other took two punches tothe face, cutting his lip before the bouncer at McCoy's came out andstopped him. We called the police.  They arrived — 5 cops or so, from at least 2cars. They talked to the guy who assaulted us. They asked us whathappened.  We recounted the story. The cops — the NYPD — did NOTHING.  They wouldn't even take theguy's information so we could file a claim later, or even run theplates of the car whose body was dented from him throwing my friendinto it.  'They're NJ plates, we can't do anything.'"
According to Hayes, the bouncer who restrained the attacker allowed him back into McCoy's shortly after the police left.
Towleroad obtained a statement released by New York City Council Speaker Christine Quinn regarding the attack. Says Quinn:
"Early Saturday morning there was a report of an anti-LGBT attack in Hell's Kitchen in which two individuals were the victims of a physical assault. I am obviously outraged by news that another bias attack has occurred in our city. But I am also deeply concerned by reports from the victims that NYPD officers responding to the scene did not appropriately recognize the seriousness of the incident. In fact, it has been reported that they failed to attempt to apprehend or even to collect contact information from the alleged assailant. If these reports are true, the behavior of the police officers involved was also outrageous and merits swift action by the police department.
Statement and post continued, AFTER THE JUMP…
"In response I have spoken to Police Commissioner Kelly's office. They have agreed to conduct an investigation of these reports, and to have police officials meet personally with the victims this week. I am very gratified that the police department has agreed to my requests, and urge them to complete a swift and thorough investigation.
"One of the most significant tools that have helped us to combat hate crimes here in New York City is having a strong police response to incidents when they occur. There was a time in our city when victims of hate crimes did not feel that the police were their allies. Any time a crime of this nature occurs, victims need to know they will be taken seriously.
"To their credit, the NYPD have demonstrated that they normally respond aggressively and appropriately to such crimes. But even one such failure can begin to undermine all of our collaborative and historic efforts.  In addition, every victim deserves to have their incident taken as seriously as any other.  I will continue to work with advocates and the NYPD to increase and expand training when needed, so police officers have the tools they need to respond appropriately to bias attacks."