Former DNC Chairman Paul Kirk will fill Ted Kennedy's vacant U.S. Senate seat until a special election is held in January, the Boston Globe reports: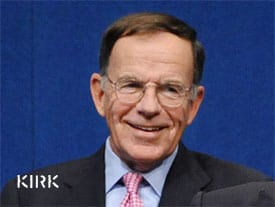 "Governor Deval Patrick has selected Paul G. Kirk Jr. to serve as
interim US senator, a choice that comes with the strong backing of the
immediate family of the late Edward M. Kennedy, according to a person
with knowledge of the selection process. Patrick has remained mum about his selection, but is scheduled to
announce the appointment at a press conference this morning today at
the State House. Kirk, 71, is a longtime Kennedy friend and former staff member, a
man so close to the family he was chosen as master of ceremonies at
Kennedy's memorial service the night before the funeral last month. An
attorney who now lives on Cape Cod, Kirk worked as a special assistant
to Senator Kennedy from 1969 to 1977, and is currently the chairman of
the John F. Kennedy Library Foundation. He is familiar with many on
Kennedy's former staff and could help smooth the transition. Kirk was registered as a lobbyist a decade ago. He was paid $35,000
to represent the pharmaceutical company Hoechst Marion Roussel on
legislation before the US Senate in 1999, according to federal
disclosure records. He is currently on the board of directors of the
Hartford Insurance Group."
The special election is set for January 19.
"The interim senator could be sworn in within days after the secretary
of the US Senate receives a certification of appointment from the
governor, according to Beth Provenzano, a spokeswoman for the
secretary's office. The new senator could begin assembling a staff
almost immediately, she said."