Tim Smith, the discharged Marine who appears on the Memphis billboard which was destroyed by vandals over the weekend, spoke out about it to KLTV: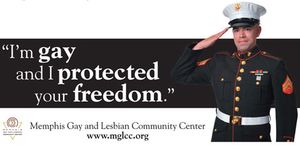 "It felt like somebody had violated the honor and commitment that we as military veterans feel about our service. [The billboard gives a voice to] all my brothers and sisters in uniform who are part of the gay community who aren't able to speak for themselves. I think now the community has been shocked, but shocked into further action. The billboards will be put back up."
A rally is planned for 1 pm on Sunday at First Congregational Church at 1000 S. Cooper Street in Memphis.
Said Memphis Gay and Lesbian Community Center Executive Director Will Batts: "Protest in anger really just kind of stir up the anger, but protestwith a purpose, which is what ours is going to be, is to use thatfeeling to do things in the community, to speak out, to encourage otherpeople to come out in the community who may not have been comfortableup until this point."
Watch FOX Memphis' interview with Bates, AFTER THE JUMP…