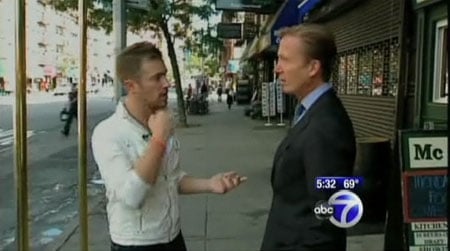 Blake Hayes, who says that the NYPD was negligent in response to a hate crime attack on Hayes and his friends over the weekend, spoke with ABC7.
Said Hayes: "We showed them my friend's lip, which had been cut when he got hit inthe face. They basically said that they couldn't get himfor assault because there was no physical injury. And we said, 'We justshowed you the cut.' And they said, 'Well, it has to be somethingbigger than that. And we can't charge him with harassment because wedidn't see it happen.'…It's almost like they were saying it was OK.He didn't hit you hard enough. Forget about what he said to you."
The NYPD Hate Crimes Task Force met with the victims of Saturday's attack early this afternoon.
Watch the report, AFTER THE JUMP…